Venturans Walk For Kids to support Ronald McDonald House
Venturans took part in the inaugural Ventura County Walk For Kids on Sunday, April 7 at the beach to support the creation of a Ronald McDonald Family Room at the Ventura County Medical Center.
"We have had over 800 registered walkers for this inaugural year," said Amy Towner, of Health Care Foundation for Ventura County, adding that they have raised $670,000 for their $1,000,000 goal to begin construction, which Towner said is "anticipate[d]" to start in 2020.
"The Walk For Kids is basically a walk to raise money to establish that, not only for the creation of [the Ronald McDonald Family Room] but also for the ongoing sustainable costs to cover the operational costs."
"The Ronald McDonald Family Room is a place of respite for our pediatric patients within Ventura County and their families," said Towner.  "This Family Room will be the first Family Room in the world that will have separate family room spaces and quiet spaces." The Family Room will include showers and bathrooms, a kitchenette, and a quiet space for resting among other spaces.
"This family room is important for patients because Ventura County Medical Center is the west county's only licensed inpatient acute care pediatric care hospital. It also is the West County's Trauma Center," said Towner.
Towner added, "we are the only pediatric intensive care unit, we are also the state's first neonatal intensive care unit and many of those premature babies spend up to four months or more in our hospital and those families, this family room space allows for families to stay close."
Readers can listen to Towner's full interview here.

Dr. Stuart Siegel, a pediatric hematologist-oncologist and chairman of the board of the Healthcare Foundation for Ventura County as well as the founder of the Ronald McDonald House organization in Southern California, explained that "the Ronald McDonald House program itself began in Philadelphia with a child with leukemia whose father, Fred Hill, was playing for the Philadelphia Eagles at that time."
The Eagles wanted to help the family, and Hill, per Siegel, said that the family needed a place near the hospital where they could stay.
The Eagles began raising money for a house, said Siegel when McDonalds got involved, resulting in the first Ronald McDonald House. The L.A. House, the third Ronald McDonald House in the world, opened in 1980 according to its website.
"I always wanted to see us come back to Ventura, and really do something here," said Siegel. "And [in] the past few years, the time was right to do that because the hospital, Ventura County Medical Center, was developing a strong program in pediatrics."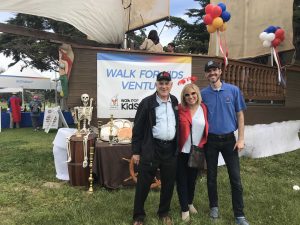 Listen to the full interview with Dr. Siegel here.

Listen here to an interview with Adam McCormick, director of development for the Ronald McDonald House Charity of Southern California.

Andres Casas, a staff member at the Ventura County Medical Center, participated in the walk along with his wife, Amalia and his son, Victor J.
"We're walking in memory of my daughter that passed away from leukemia and for other family members and friends that we have that are going through that struggle right now," said Amalia Casas.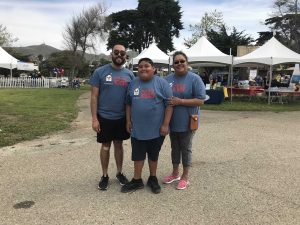 Andres Casa commented, "I'm here on the team for the Ventura County Medical Center," adding, "I'm also here in memory of my sister Carina."
"And yeah it's really hard for patients, especially their families, when they're diagnosed [with] something like that," said Andres Casas. "To have a place to rest, have a place that's like 'we're here for you' is just like amazing so for Ronald [McDonald] House Charity to be doing this is great and I'm [glad] that it's here in Ventura County."