It's over 7,000: Derek Pekar breaks decathlon record
On April 5 and 6, senior Derek Pekar attended the Arcadia Invitational Track Meet in Arcadia, CA, and made history.
Pekar was invited to this event, so he could participate in the decathlon. A decathlon is a series of ten track and field events over two days. On the first day, decathletes compete in the 100 meter run, long jump, shot put, high jump and a 400 meter run. On the second day, decathletes compete in the 110 meter hurdles, discus, pole vault, javelin and a 1500 meter run.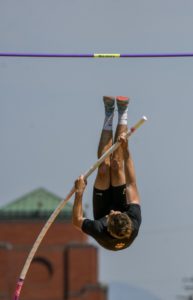 "I was really nervous the night before I left to the meet. Both nights leading up to the event, I could hardly sleep. I was really nervous because this meet basically dictated where I was going to college, and it was my last meet ever, but I was also really excited for it," stated Pekar on his thoughts and emotions leading up to the decathlon.  In order to physically prepare for this event, Pekar trained for quite a bit. He practiced throwing more than anything, and he would spend his weekends practicing on top of the daily track team practices he had during the week.
"I focused on eating right, and practiced extra on my own. I dropped ten pounds and I gained a lot of muscle," commented Pekar. 
Pekar had a total point compilation of 7021, which is the second best decathlon score in the history of  California. So that makes technically makes Pekar the best decathlete in the nation.
Pekar shared, "I didn't think I would get seven thousand. That was very surprising. My score was completely shocking to me… After the first day, I knew I was doing well. And if I had a good second day, I had a great chance of placing highly, but that score is still very shocking to me."
When asked how he felt being the best decathlete in the nation, Pekar stated, "I don't feel different at all really… I don't feel special. I'm still at practice doing normal stuff. I mean, it's cool to look online and see my name there, but other than that, I don't feel different."
Pekar is hoping to continue to do track in college, and is looking into attending either Colorado State University, University of Purdue, University of Virginia, Pennsylvania State University, or the University of California, Santa Barbara.