A walk through the chalk
The annual Ventura High School Chalk Festival took place on April 17 and 18 on the Catalina lawn at VHS. According to art teacher Lauren Minadeo, around 35 students participated this year. In past years, Minadeo said,  there have usually been around 75.
"I think even though it's small, all the work is excellent. We don't have any work that's not going well, because we're [not] trying to do too many," stated Minadeo.
Minadeo teaches Art 1, Art 2, Art 3, and AP Art History at VHS. She explained that normally the participants are from her upper level art classes.
For senior Max Yost, it was his third year participating in the chalk festival. He was assigned to do a portrait, so he chose to do the picture of someone's grandson. This was also his third year doing a portrait.
All of the drawings are pre-requested to be drawn, and the students get to choose what they would like to draw from the list of requests.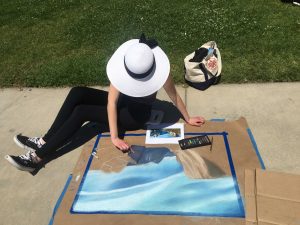 "I loved doing the sky, just love the colors," said freshman Grace Morton of her piece. "I think it's really fun and relaxing to just put color down on paper. I would love to do a portrait [next year]."
Senior Immanuel Macias explained that he was "demotivated at first until [his] teacher just came over and then drew all over it and said just have fun, you know, get the chalk in there."
Junior Trenton Flores, AP Studio Art and Design student, stated, "At first I was blending a lot with my fingers, but it wasn't really working out and I didn't like it at all, so then I switched to just not blending at all, and just laying the chalk down, and it started working a lot better."
"It's uncomfortable, I have to take breaks because I'm leaning all the time," said senior Jordan Pollock. "This is my third year doing it and I wanted to do a big piece by myself so I guess just having it and working on it is fun."
Other than the constant leaning over their work — and a sunburn if they weren't in the shade — most students shared that they had a fun experience in this year's Chalk Festival.