What the girls of The Cougar Press think about school dances
Trinity Taylor's side:
Imagine this: It's your freshman year of highschool and you don't know anybody walking in on your first day. You're small, scrawny and innocent. Luckily, you managed to make some friends through sports and are clinging to them for dear life.
The first school dance is coming up in a week and all the upperclassmen are promising you that besides prom, it's the best dance of the year. So, you're hyped. You get invited to someone's house to "get ready" before the dance and you get all spruced up, and you're really feeling yourself.
When you arrive at the school gym, you're ready to have fun. So, when you walk in and begin to approach the mosh-pit, your favorite song blowing up the gym, your first high school dance, the last thing you expected is to get caught-up in the middle of a senior fight and socked HARD in the face. Yep, that was my first high-school dance so I guess you could call my opinion biased. Usually, I dig the whole rock' n' roll mosh pit thing but the black bruise I got around my eye lasted a full month (thanks to that senior, whoever you are).
It's not that school dances aren't fun, to be honest they can be great. But we can't ignore the fact that we students already have low expectations for these things and Ventura High School dances don't even meet those standards! I get it, we go to a public school, the budget for extra-curriculars like dances are already scarce.
But honestly, all I'm asking for is a dope D.J. and a disco ball (or some kind of colorful lighting effect) and that's not much. I don't want to listen to EDM or head-banging punk music, I want some night-club-vibe music. I want something I can actually dance to without looking like an idiot. (How the h*** do you expect me to dance to Nirvana?)
Senior Spencer Bullock agreed: "Yeah, school dances have been kind of a bust lately… the music's been pretty lame."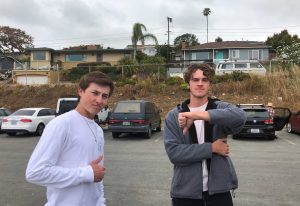 Which leads me to my next point. Dancing. Or should I say shoving, jumping and punching. Again, I love a rock'n'roll moshpit, but we're not at a Rolling Stones concert, we're at a high school dance. It is perfectly appropriate to get your jig on to one of the many mainstream pop songs playing without giving an unsuspecting freshman (aka me a year ago) a black eye. Don't get me wrong, the mosh-pits can be really fun, but lately they've just been violent and musty (homecoming and Sadie's 2019).
My last subject: dance attire and dates. I'm sure we've all been subject to the criticism of our peers' when it comes to what we're wearing or who we're taking to the next school dance. This is fully based off of my own opinion, but it's annoying. Wear whatever you want, date whoever you want, do your thing and whatever makes you happy.
Why should someone else's opinion matter if you're happy? If you don't like that girl's dress, keep it to yourself. And yeah, that guy's pants are really short, and yeah he's not wearing socks with his gucci slides but you know what, he's thriving so just leave your friends alone and respect their stellar 'fits, no matter how ridiculous they might be.
Saida Delgadillo's side:
School dances are full of good memories!
Although dances are sometimes messy, musty and madness they are also some of the most memorable times from high school. I know many could disagree with me and state that the dances are cliche and lame but as a dancer I could personally say it is one of the best times (especially as an underclassman.)
According to a survey from The Cougar Press Instagram, 55 percent of students agree that school dances are fun!
I think what I find to be the most exciting part of dances is the time you spend getting all dolled up. I know most boys may disagree with that part, but I know for girls like myself, that is the best part. Although I will agree with Trinity and believe that the moshing is too much. But I think the real dancing is so enjoyable and having your group of girlfriends there or maybe a special someone make it even better.
Junior Charlotte D'Orsi agreed, "Yeah dances are fun. Getting all dressed up with your friends and taking photos is definitely the best part."
Moving on to the style of it all (the most exciting part of formal dances). I remember going to my first high school dance freshman year and analyzing everyone's suit and ties. I always found it so neat to see the people who don't dress up often all dolled up. Girls show up wearing an abundant amount of makeup and different styled dresses and it is all so shocking and pleasing to look at. I think that is the beauty of school dances. For some, going to a dance is the one time they get to step out of their comfort zone and wear something they typically wouldn't and look like someone else for the night.
Although I really enjoy dances and think they are full of magical and memorable memories, I think the prices are too high. I can think of so many people who have not gone do to the price, which is ludicrous. Like Trinity stated, it is evident that the budget for school dances is limited, it is vital for the staff and board to recognize what dances can mean to some students.