Cougars hit the courts
Meet the 19'-20' girls varsity basketball team
Ventura High School's varsity girls basketball team started their first practice of the winter season on Monday afternoon the fourth. Ann Larson, along with being the head of the Associated Student Body of Ventura High, is coaching the girls varsity team. She has been since 2000, making this her 20th year as head coach.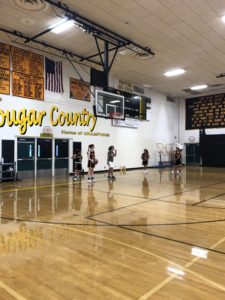 "Basketball is something I've been involved with since I can remember. I enjoy every second of it and cannot wait to continuously get these girls on the court to improve for this season," commented Larson.
Six of the eleven players are returning varsity players this year including sophomores Tiernan Philips, Alexis Howery, Amaya Fuentes, and Dani Henley along with junior Caroline Connolly and senior Sammie Henley.
Larson added, "it's odd, we are a very young team unlike any other team I have coached. We have five sophomores who in fact have outside experience and were on varsity as freshmen." Four out of the five starting players consist of sophomores who were previously on varsity for their freshman year." 
Henley, one of only three seniors, is an all around CIF player with an enormous amount of experience and sportsmanship. This being her fourth year on the varsity team, Henley mentioned, "I'm very excited to see the progress we make throughout the season, yet we are such a young team we work very well together."
Junior Madeleine Scheer commented, "the first practice consisted of running and more running on top of more running. Conditioning has finally come to a start. But overall I'm very excited for season and to hit the court for our first game." 
As practices rack up for the varsity cougar girls basketball team, their first game of the season is scheduled on Nov. 19. As well as their first league game on Dec. 19 against Oxnard High School. Make sure to mark your calendars for the upcoming girls basketball season, you will not want to miss it.