Varsity boys soccer earns their second victory of the season
"Just slow it down and keep it simple," head coach Claudio Lonardo explained to the Ventura High School varsity boys soccer team after the first half of their game against Carpinteria High School.
The Cougars started off with strong defense and "high pressure on the other team," said senior team captain, David Kelley. Within the first four minutes, Carpinteria made two attempts to score, however, senior goalkeeper, Ivan Rodriguez saved the ball consistently and kept doing so throughout the entire game.
A ball to sophomore, Daniel Lancet's stomach caused Ventura to call a brief time out, however Lancet came back strong following his mild injury. During the last ten minutes of the first half, Carpinteria scored an own goal, meaning they kicked the ball in their own net, leaving the score at 1-0 for VHS.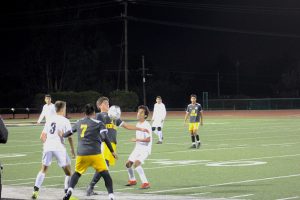 In the beginning of the second half, a second goal was scored for VHS by junior, Andres Gallegos. Lonardo explained, "During the second half I saw more talking and encouragement, I think [the team] is getting a little bit more comfortable with each other." 
Throughout the remainder of the game, Ventura made it difficult for Carpintera to effectively set up opportunities causing the final score to be secured at 2-0 for Ventura. 
Though they won the game, Kelley believes that there are still many things for the team to master, such as, "making smart decisions, being quick on the ball, keeping the majority of [their] passes on the ground, and increasing speed of play." Senior Dylan Manning, who plays midfield, expressed a similar sentiment, "We definitely need to work on finishing our attacking opportunities because we had about twelve shots that game." 
This was the team's sixth time playing together, and so far in their season they have had two wins, one loss, and one tie. Kelley explained that out of 18 players, only six of them are returners, he added, "We are continually building chemistry together more and more." 
Despite the need for improvement, the team is not to be discouraged. Lonardo assured, "There's a lot to improve but I think we're on the right track to having a good season." Kelly shared the same optimism for the games to come, "The future of this team is going to be a very positive one because everyone will understand how each other plays which makes it much easier to win."