Practice makes perfect!
The 2019 PSAT scores have arrived
On Oct. 16, 180 juniors and sophomores took the Practice SAT, a test used in preparation for the SAT, that is taken by high school students who plan to attend college. Students are tested for approximately four hours and must complete an English Reading and Writing section along with two Mathematic sections. According to College and Career Counselor Patricia Roberts, the 2019 Ventura High PSAT scores ranged from approximately 700-1440 including a 1044 mean, dropping 20 points from last years 1066 mean score. 
Junior Jason Hepfer scored a 1440, the highest PSAT score earned from the 2019 Ventura High PSAT test. When asked about his personal experience taking the PSAT, Hepfer said, "for me, math was a lot easier than the English section, [although] I felt a lot stronger on the grammar than on the reading portion."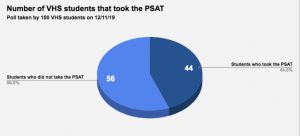 Hepfer was also asked if he believes there is any correlation between academic ability and a high PSAT score. "I do think it's somewhat indicative of academic ability but I also feel as though some questions are really testing one's ability to figure out what the question is asking rather than testing whether he or she actually understands the concept. Regardless of academic ability, I think a high score is achievable for anyone who's willing to study and practice."
Sophomore Wyatt Mojo who scored a 1070 on the PSAT shared his experience taking the test as an underclassmen, "It was actually kind of fun. I thought it was going to be hard but it was easy. The math section where you could use a calculator was the hardest part for some reason. My biggest advice is time management and to skip over anything that you don't understand. I don't think it's a good indicator of academic ability because I'm actually a genius."
Junior Daniela Contreras also gave insight on her experience taking the PSAT, "I honestly think taking the PSAT was kind of stressful because in the gym there were a lot of people and it was hard to focus because of just the little things that would happen. I think the hardest part for me was just managing my time wisely. The English section also was difficult because there were passages that just made no sense to me. I got a 990 which isn't too bad especially for not studying much but I definitely think I could've done way better if I had studied."
Contreras also shared her final thoughts on the PSAT as a whole, "I don't think the PSAT is a good indicator of academic ability because I'm not really a big fan of these tests since there's people who are extremely smart but are just terrible test takers. My advice to people who are going to take the PSAT is to not stress over it and try to study if you can."
Roberts gave more insight on the 2019 PSAT statistics. "The English Reading and Writing score last year was 546 and this year was 515. The state mean score was 959 so we are above the state score."
The 2019 Evidence-Based Reading and Writing section mean score was a 529, a 17 point drop from last years ERW section mean score. The 2019 Mathematics section mean score was a 515, a 5 point decrease from last years Math section mean score. 
Students can register for the upcoming SAT on the College Board website. https://www.collegeboard.org/