Is Ridiculous living up to its name?
The inside scoop on what the Ridiculous brand is all about
[dropcap size=small]I[/dropcap]n the Ventura High School parking lot, senior Rourke Rieman has probably been spotted in his white Jeep with the red "Ridiculous" logo labeled on the side. At the Buena vs Ventura Football game during the fall, a cannon shot t-shirts into the student section and the people shooting the cannon were all a part of team Ridiculous. Now what exactly is the brand all about?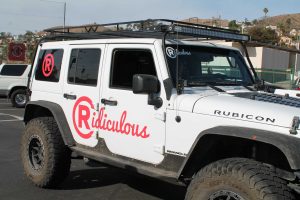 Based in Ventura, Ridiculous was founded by Ray Reiman, father of two Ventura High School students, sophomore Vaugn and senior Rourke Rieman. Rieman explained, "Basically, my dad [had] been talking about starting an apparel company for years and when he decided to go for it, that was the name he chose. He's always had the circle R for logos so he incorporated that into the Ridiculous logo. It is an outdoor and adventure brand that focuses on ridiculous things." 
Rourke Rieman commented on what the company is all about, "I think the best part is just being surrounded by people who don't conform to the boring norms of society nowadays."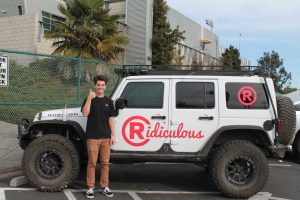 Rourke also explains how Ridiculous enjoys representing their brand by taking the Jeeps off-roading into wilderness.
On their website, Ridiculous describes their brand, "We have a commitment to a way of life, whereby each individual lives their life to the fullest: without fear or reprisal; independent of all others." The company strives for their customers to live by the saying "risk has its rewards," meaning that life is too short to live without doing adventurous activities even if that means stepping out of your comfort zone. 
The brand sells items from hats and accessories to t-shirts and sweatshirts. Junior Caleb Gilbert stated, "I was lucky enough to catch a Ridiculous t-shirt at the Buena vs Ventura football game. Rourke Rieman is a good homie of mine and the brand is pretty sick. I love supporting them."
       Regardless of what Rourke Rieman talked about, not conforming to the boring norms of society, living life to the fullest, and doing adventurous activities, others like junior Abigail Martinez find this ideal hard to believe. When Martinez was asked about what she thinks about Ridiculous and the company's motives, she commented, "I've heard some rumors that the brand was made only so that Rourke could get free Jeeps, but that seems a little extreme so I don't think that it's true." Nothing that Martinez said has been proven to be factual, but the suspicion remains.     
 All in all, the Rieman dream of opening an apparel brand came true. So whether you see it on Rourke Rieman's Jeep or on a shirt that was canon launched into the football stands, the "R" circle symbol has made a mark on Ventura.