Seniors ball out for the Roaring 20's
VHS Students give their thoughts about Senior Ball 2020
It was the night of Jan. 25, and seniors got ready for one of their last school dances. Pictures were taken at varying locations, some of which included Cemetery Park and City Hall in Ventura, and posed were young adults in lavish ball gowns and suits. Students all made their way to Spanish Hills Country Club in Camarillo, and excitedly waited to dance the night away at 7 p.m.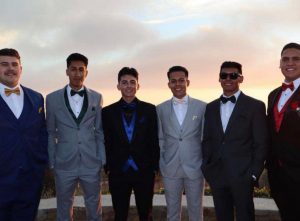 The ball was organized and designed by ASB senior officers Molly Hammer, Emily Neitz, Stephanie Raya, and Aaron Palmisano. This year, it was decided that the ball would be themed "Roaring 20's" and featured a 20's themed bar, which served a drink named The Great Gatsby. ASB officers also created four memory boards for the seniors, each board containing photos from freshmen, sophomore, junior, and senior year. There was a dinner served to guests, featuring an Italian buffet.
Following the first hour of the eventful night, awards for "Senior Best" were given, which were voted for by seniors only. Each category recognized a handful of seniors for their "achievements," some of which included "worst case of senioritis" awarded to senior Devon Ferry and senior Colby Wilmeth. Other examples of awards given were "best dressed" awarded to seniors Xzandalyn Kallstrom, Olivia Jacobson, Colette Victorino, and Bella Young.
After the announcements, the rest of the night was danced away by the seniors and other guests who attended. According to seniors, the ball was filled with exciting and memorable moments. 
Senior Jessica Johnson commented, "Senior Ball was fun. I felt really lucky that I got to be surrounded by my close friends all night and it's always cool seeing everyone dressed up. My favorite part about the dance was realizing I won most likely to lose a lottery ticket. [I] can't wait to find that in the yearbook 20 years from now and make my kids so proud of me."
Senior Kaitlyn McAllister generally agreed with Johnson, and also included some suggestions to make it better for next year, "Overall the dance was pretty fun and it was super fun seeing everyone dress up. I think some of the song choices could have been better, super fun though."
Overall, Senior Ball seemed to be widely enjoyed, and received mostly positive feedback. The next school dance will be Sadies Dance in March 2020, open to all grades.