VUSD shuts down due to coronavirus pandemic
COVID-19 virus prompts district-wide shutdown for at least a month.
During the evening of Mar. 12, Ventura Unified School District announced the commencement of a district-wide shutdown beginning on Mar. 16 until Apr. 10 with the possibility of a further extension.
Discussion of school closures in Ventura has been ongoing in past weeks. The district finalized their decision after the Center for Disease Control deemed the virus a pandemic, a world-wide disease, as well as the Ventura County Public Health Office declaring it a local health emergency.
Just as sporting events and concerts around the world are being cancelled, school-sponsored events are no exception. All field trips, athletic events, and dances will be cancelled until VUSD re-opens its doors to students. 
Many parents have expressed their approval and frustrations on VUSD's Facebook page. One parent commented, "This is overkill.. are we going to get homework and work for kids for the next month so they won't be behind in school? If this is the case there should be a plan to provide the education they need while off."
In agreement with the decision to take precautions, another parent commented, "Kids have less self control than adults and are constantly touching every surface around them, their faces, coughing and sneezing without covering their faces. Yeah, it's better to keep kids at home so that their risk drops of catching it and spreading it faster."
In regard to the lengthy delay in instruction, VUSD wrote in their first district-wide email that they have been "developing appropriate at-home enrichment activities that [they] will share in the near future." 
However, it was later released that on Mar. 13, VUSD Superintendent Dr. Roger Rice sent out another email to all teachers stating that they were not allowed to assign homework to students. It is unclear whether this will last for the entirety of the school closure or until an online system is established.
The concept of class time being transferred online has also been adopted by schools in China and Italy as a result of the COVID-19 outbreak. Although, if the school does choose to administer online education, this could prove to be an issue for students who don't have access to a computer at home.
Since its announcement, the discussion of the spread of the COVID-19 virus has only grown, causing many to take preventative measures by purchasing excess amounts of products such as toilet paper, bottled water, and hand sanitizer.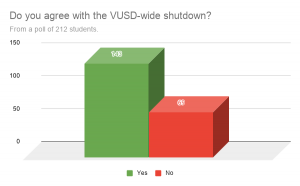 Many people, such as VHS senior Melanie Gonzales, understand the need for preparedness and precaution. Gonzales explained, "I think it's in the best interest of the school district to look after the health of the community and make sure everyone is safe. I do think the amount of time off is a bit much, but we also have no clue what is going to transpire in the next month or so."
On the other hand, the school closures, event cancellations, and product shortages could also be seen as disappointing and futile. VHS sophomore, Martie Pecht expressed, "There are way too many important things that are going to be missed and the lack of school isn't going to help that. I know this is all preventative but right now I am devastated. The fact that music is cancelled is making me so sad."
The closure also brings up additional issues for working parents who will struggle to find supervision for their younger students when they are supposed to be in school. However, this particular issue seems to be out of the district's hands.
As for students who depend upon cafeteria food for their meals, school cafeterias across the district will remain open for students who are food insecure. At VUSD specifically, cafeterias will remain open from 11:30pm to 1pm Monday through Friday. Children do not need to be VUSD students, however all meals must be taken off campus in order to encourage social distancing. 
In the future, cafeterias will also be administering new procedures and getting rid of self-service stations in order to prevent cross-contamination.
As the virus continues to spread and more information regarding its lethality is released, VUSD will continue to update families regarding transfers to online schooling as well as the probability of the shutdown being extended.