Serra will be "serra-brated" no longer
After residing in front of the Ventura City Hall for decades, the statue of California missionary Junipero Serra has been removed.
Following virtual public meetings and on-site protests, the Ventura City Council decided in a six-to-zero unanimous vote to remove the Junipero Serra statue that stood in front of Ventura City Hall. The statue of Serra was removed on July 23, 2020, eight days after the city council voted in favor of its removal. It will be relocated to the San Buenaventura mission down the street.
"I think it's necessary and long overdue," said senior Marileen Estrada. "[Junipero Serra is] someone who definitely does not deserve to be commemorated with a statue right in front of City Hall."
Serra was an 18th century Roman Catholic Spanish priest who founded the first nine missions of 21 Spanish missions in California, the San Buenaventura mission being one of them. Serra has come to be a controversial figure, seen as a spiritual father and protector to some, and a driving force of the torture and enslavement of Indigenous people to others.
"I don't really think [moving the statue to the mission] is the best thing, because the mission will probably use the statue to remember Father Serra as just a religious leader and not someone who is also responsible for the murders of many indigenous people and erasure of their culture," continued Estrada. "I think the ocean is a good place for it, but you can't have everything."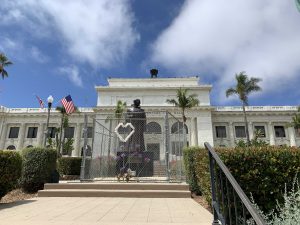 A VHS junior who wished to remain anonymous disapproved of the statue's removal, "I think since the BLM [Black Lives Matter] movement started everyone is trying to point fingers at things they don't agree with. Although he may have done bad things, I still feel like he was one of the founders of this town."
Around 3,600 indigenous people are buried at the mission, according to the Los Angeles Times. "I do feel like moving the statue there would be dishonorable to them," continued anonymous, "so why don't they just keep [the statue] in its original location? I don't think this specific example is doing anything to solve racism. The way we should be solving racism is by pushing Congress for more just laws. We should be more worried about voting our current president out of office."
"To me, Junipero Serra represents the horrible period of time where Spanish missionaries treated the indigenous people horribly and enslaved them," said junior Carmen Ibarra, "I view him as a horrible person who used religion as an excuse to abuse the Natives."
Now that the statue has been removed, questions are being raised of whether a new statue should replace where Serra's once stood.
"I think it would be cool to replace the statue with a statue of a local person who has helped the community in a loving and positive way," commented Ibarra.
"We are in the middle of a civil rights movement," finalized Estrada. "Leaders are now starting to listen to other oppressed groups. This signifies change… my hopes are that this is the start of people in Ventura becoming aware of the truth so that we don't turn monsters into heroes."