VHS seniors start the school year with a sunless sunrise
Class of 2021 gathered to celebrate their last high school year.
On a chilly Sunday morning, class of 2021 seniors gathered at an early hour to celebrate the new dawn of their final year at Ventura High. With the fall semester being entirely online, seniors will be missing moments they expected to have prior to the Coronavirus pandemic. Bringing their blankets and masks to unite for the first time this year, seniors watched the overcast weather that showed no sign of the sun until hours later. 
Senior Renee Cafarelli shared her thoughts on the current state of her senior year, "I'm mad that the first year of my senior year is online, I wish it was at school with everyone like normal." Despite this, Cafarelli is looking forward to "[hopefully] senior soccer and track season." Cafarelli stated that, "Senior sunrise was alright. I missed some people that I saw, it was nice to catch up with our masks on." Cafarelli further expressed that, " I don't think VHS could do anything [to make this year better for seniors], but if 'Rona ends, we're good." She continued, "I feel like the athletics and club week will help normalize this [situation] a little."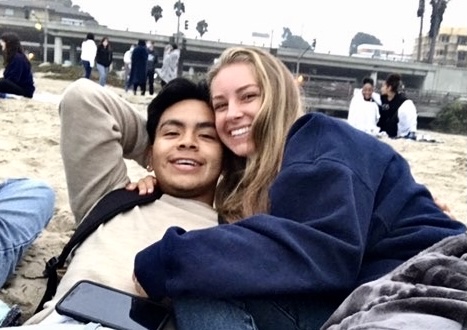 Senior Maddie Huot stated that, "It made me super happy to see everyone at the beach. It felt really good to be with everyone, it gave some normalcy to this time in our lives." Huot shared her goals as senior ASB president, "Keeping everyone positive and connected during this time. I know a lot of people really miss school and seeing all their friends, so I definitely think that getting together as much as we can will help our senior year as fun as it can be without being able to go to school." 
Huot shared some senior events to look forward to in the year, "The senior class and I are planning on having a drive-in movie night for the seniors before Halloween in the senior lot." She continued, "We are super excited to be planning it for everyone." Although the senior year experience is vastly different than years prior, seniors should rest assured that there will still be events to look forward to.