College bound without a destination?
The College and Career Center is hosting presentations from colleges both domestic and international.
The competition to get into college has students stretching themselves to the limit attempting to get the highest GPA and the most efficacious extracurriculars. Seniors especially have crucial upcoming decisions on whether to attend higher education and if they are college-bound, select the one most fitting for them. 30-minute seminars at the College and Career Center allow students to learn more about a college and why it could be a good fit for them. These seminars are led by college admission representatives who can have a voice if students from VHS are accepted or not.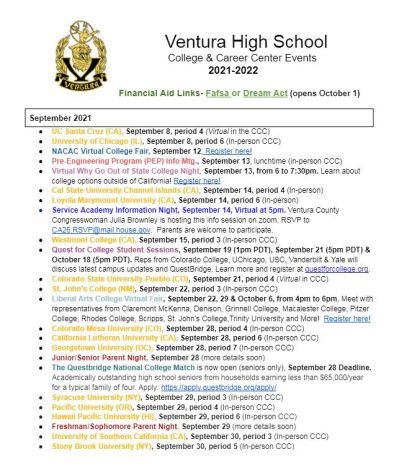 Patricia Roberts, the college and career counselor at Ventura said, "I would highly recommend [the seminars] because it is an opportunity to learn about the different options that are available, so we have a variety of different colleges that come. Some that are large UC campuses and some that are smaller private liberal art schools, and it is good for students to…start to get a feel for the types of programs."
September and October are filled with college fairs and information nights for all students. Roberts recommends that anyone visit these presentations, even freshmen. However, she said, "It is ideal for juniors and seniors, especially as they are making their college list and seniors as they are making their applications and being able to ask last-minute questions." 
This year, around 50 national and international colleges have reached out to Ventura High School to come and share what makes their college unique. Presentations usually occur twice a day on Tuesday, Wednesday, and Thursday. Walk-ins are allowed, but Roberts said, "The best way is to sign up in advance; there is a sign-up sheet just outside my office." Roberts does send out call slips, but a student's class will take priority over the presentation.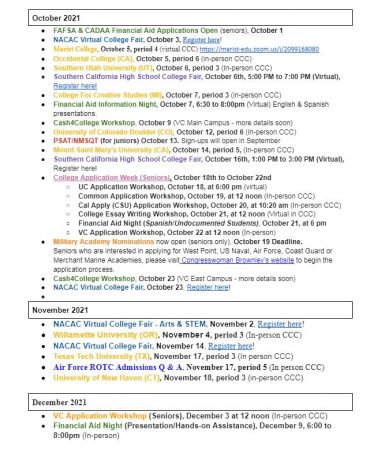 Letty Duenas, a college presenter for Loyola Marymount University, said, "My primary goal for students is to learn more about the LMU community and see if it is a good fit for them. I think LMU is very caring, and you have a lot of passionate students. It is a great place for students to continue learning and transforming themselves into leaders in their community"
Attending college seminars that document interest, "Is a huge advantage for that student if they want to go to that school. Even if it is a school they have not heard of, it is worthwhile to come because they get to learn about a school that they did not even know existed that might be a really good fit." Said Roberts. 
Senior Kiana Kellner said that, "I think that it was a great experience and I learned a lot about LMU…there was a lot of new information that I learned from the presentation, I didn't know that their campus was so huge and they had offered all sorts of majors."
Informational visits happen in the fall semester. "In the spring, we try to have more of a focus on career speakers." Roberts said.
"We have had anywhere from engineers, hair stylists, floral designers, filmmakers. They are always really inspiring, and the students always get a lot out of it because they have sat in your seats, literally, and know some of the same teachers and can connect, and what sparked them and how they did what they did…every time I am inspired by that, and I think the students are too." Said Roberts.
Planned college visits and information nights will span through November, with upcoming visits of colleges like The University of Colorado Boulder and events that include college fairs, and Workshops. Scholarships like the Dream Act are now available for student applicants. Military academy nominations, available only for seniors, have a deadline of Oct. 19, so make sure to sign up early and see Roberts in the College and Careers Center or visit this link for more information.