Cougars hum with spirit!
Whose house? V house! Cougars have pride!
Everyones has seen the cliché high school in teen coming-of-age movies. Athletes are walking around sporting their letterman jackets, students tailgate before the big game and there's always an epic prank on the cross-town rivals. After a year away from the traditional high school events, students are getting back to make up for the lost time. 
The VHS football team had their first home game on Sept. 10 against Newbury Park High School. The pep band blasted the VHS fight song, students cheered and our mascot "Cougie" ran around taking photos with students. 
On the day of the game, the ASB got students into a spirited mood by having a blackout. Students wore all black to show cougar pride and our school colors since Newbury Park is also black and gold.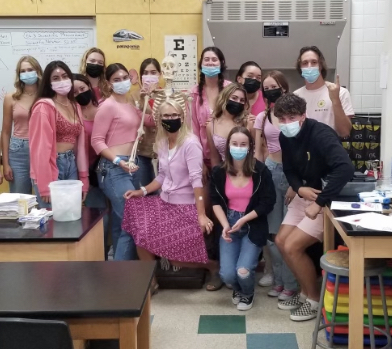 Then on September the 17th, the VHS football team went to play against Santa Barbara High School. ASB junior class Vice President Mateo Navarro had a few doubts about the theme for that game "We're always scared when we have out-of-the-box themes because we don't know how well of a turnout it will have and the student section." Some students go all out for football games, like wearing sparkly black and gold cowboy hats or painting their stomachs with their friends to spell out "GO COUGARS!" 
"It was crazy and we had a great spirit mentality the whole time! We lost, but it was super fun." said Navarro.
Along with the pep band and the student section, the VHS cheer team leads students in chants, and the dance and hip-hop teams perform during halftime to keep the energy up. Marissa Stadtmiller, a freshman on junior varsity cheer, is loving being a Cougar so far. "My favorite part is the sense of community that everyone's together and everyone really has spirit and loves the cougars and our football team." 
When asked what students can do to make the cheerleader's jobs easier during games, Stadtmiller said, "Cheer with us and interact with us and be peppy too. Sometimes we're cheering at them and they're just blank, so have spirit too." 
So what is school spirit and why is it important? School spirit is the demonstration of pride for your school. It can help students feel connected to their school, give them a sense of community, and is associated with good sportsmanship. 
Does cheering and having school spirit actually influence the outcome of the game and the athletes? "Absolutely, I think if I had no one to cheer me on, I wouldn't see the point of it. I know that when I personally cheer on my teammates, it makes me feel good, too. There's no negative side to it when everyone gets some support," said Navarro, who's on the cross country and track and field teams at VHS. 
 Navarro has some advice for students looking to be more involved, "Just take that leap, just go out and show school spirit. No one is going to think you're weird or judge [you]. You're just here to have fun, so just take that leap."