Cat got their tail?
Ventura varsity girls soccer beats Buena, breaking a three-year losing streak.
At the 5:00 p.m. game on Tuesday, Jan. 11, the Ventura High School girls varsity soccer team went into their game with Buena holding the three-year long winning streak. 
The game was low-scoring. Neither team scored in the first half, leaving the outcome still up in the air come halftime. With a long-standing school rivalry, both teams came to compete.
Early in the second half, Buena became
 the first to score. Ventura's rival was then in the lead, but there was still time to change that. Much of the second half was spent with Buena holding onto their one to nothing lead. Not until there was only eight minutes and 30 seconds left on the clock did Ventura make their first goal, scored by number 17– senior Kalaiyh Brown. Brown said, "Honestly, it felt surreal. I couldn't believe it at first. I was happy for myself and my team."
With the game tied one to one, the outcome was once again uncertain. The game came close to its end, but Ventura was not done. With two minutes and 21 seconds left on the clock, VHS scored again. This time it was sophomore Jazzy Moreno, number nine. Ventura was in the lead.
This is Moreno's second year on the varsity soccer team at VHS. She said, "I started playing soccer at age 3 and have been in love with the game since." 
She also recognized the role of the team as a whole. Moreno said, "Everybody was working hard and doing the best they could on the field to make our team successful. I remember Esja laying me off the ball. A defender was blocking the goal so I pushed the ball aside and took a shot and it went in. It felt surreal. At first I was shocked and then I felt pure excitement. Definitely a night to remember." 
Moreno plans to play collegiate D1 soccer. She said, "My dream is to play in the Pac 12. I'm going to keep pushing myself to get better so I can accomplish that."
Just before the final minute of the game, VHS scored for a third time. It was Brown once again. The score was three to one,
Ventura, and it stayed that way for VHS to claim victory. Brown concluded her senior rivalry game by finalizing the team's winning score. She said, "I think Buena talked mess and then ate their words when we won." 
Moreno also added her feelings on Buena soccer, "Buena has always been a tough opponent, they put up a great fight. They took the lead early in the game and we knew we had to have a positive mindset and work hard if we wanted to win that game." 
Brown had first started playing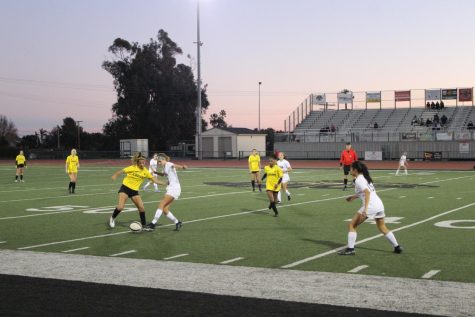 soccer at just three years old and has played for VHS all four years of high school. She said, "This season was definitely a bit different with COVID, but I've learned to make the best of all situations." Brown does not plan to let her soccer journey stop at Ventura. She said, "I hope to play for a university. I'm working on getting all my highlights together at the moment."
Moreno gave some advice for next year's team, "Enjoy every second of the time you have on the field. Work hard and put in the time,  you can accomplish anything you put your mind to . Most importantly, have fun!" 
Ventura walked away from this year's rivalry with a victory in girls varsity soccer. The class of 2022 has played through the effects of COVID-19 in the past couple seasons, but as for the cross-town rival, they couldn't quite get this cat by the tail.