Girls waterpolo seniors make a final splash
Seniors reflect on their high school water polo career as their final season draws to a close
The last girls waterpolo game of the season was Feb. 1 against Buena High School. During this game, the waterpolo team celebrated their seniors; Caelan Okinaga (#13), Martie Pecht (#9) and Emily Ball (#4). The team advanced to CIF, and lost round two, meaning the season is over. 
"I have experienced a bunch of other senior's final seasons, but having it actually be your own is very surreal and I will be really sad to leave. It's very bittersweet. I am experiencing a lot of senioritis right now and I also really want to keep playing with the team. We have all improved so much as a unit and it's going to be really hard to leave," said Pecht.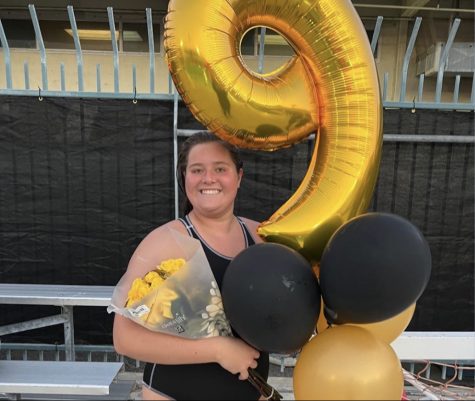 Pecht shared a fond memory from her high school water polo career, "One fond memory came from this year actually. We always have an alumni game before the season starts, and seeing and playing against all of the people that I started high school playing with was super fun to do." 
Ball said she has always enjoyed tournaments, "This past season the Varsity team played in some big tournaments, including the Downey tournament (second place), the Villa Park tournament and the Oxnard Tournament (first place). I think my fondest memories are of team dinners and spending time with my teammates in hotels."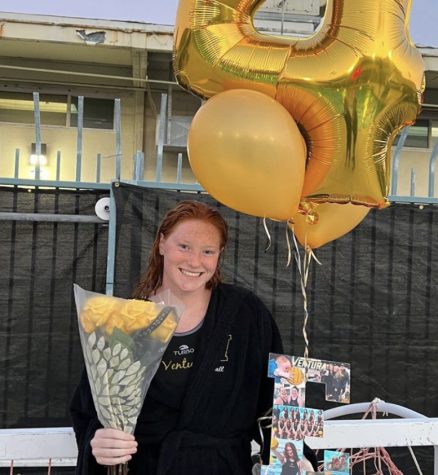 Ball reflected on her accomplishments from her years on the VHS water polo team, "It is my fourth year on Varsity and it's crazy to think of all the things I've done with this team during that time. My freshman year we were in Division 4 and since then we have moved up to Division two, and we have been league champs 3 out of my 4 years."
Okinaga also shared a memory, one that includes Pecht, "A fellow senior, Martie Pecht and I are both also musicians for honors wind ensemble and we had to rush from a water polo tournament in LA all the way back to Ventura to perform in the concert, in the moment it was really stressful, but for some reason I think of this memory fondly because of the endorphin rush I experienced from the entire ordeal." 
All three seniors plan on continuing to play club water polo in college, even if not as their main sport, still incorporated in their lives. "I am not sure if I am going to play in college due to the fact that I am considering joining the triathlon team at the college I decide to go to, but I am definitely considering joining a club water polo team during college," said Okinaga. 
As the girls water polo season comes to an end, the three seniors on the varsity team take a moment to reflect on their time on the VHS water polo team. Finishing with the Division 2 CIF rounds, these seniors prepare to make their final splash at VHS.