VHS cheer team protests the lay off of coaches, nevertheless, a new coach is hired
VHS cheer team protests the lay off of coaches
During the lunch of April 29, 2022, Ventura High School  cheerleaders, parents and peers joined in union to protest the laying off of their 2021-22 cheer coaches, sisters Sydney and Sierra Paris. While marching around the school, they chanted, "We are the cougars," and, "We want our coaches back."
Sophomore Seneca Paris, younger sister of former coaches, Sydney and Sierra Paris, said, "Our coaches got fired and they didn't give us a reason… [Marissa Cervantes] is wanting to bring in all star coaches, if we wanted to be an all star team, we would go on an all star team. This is high school cheer. I've seen some videos of [Orby Orta] and he just screams at his kids, and if we wanted that, we would go [to a different team]."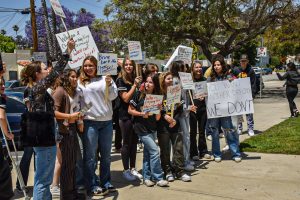 Junior cheerleader Hannah Aguilar-Boyd said, "They've [administration] been plotting this for months apparently and like they didn't let the coaches know in advance or anything." 
Seneca Paris said, "They first got us mats which we've been wanting to get for like a ton of time because we've been practicing outside in holes and stuff, and they also brought us our first competitions and made us better. Five of us got new tumbling and we just grew a lot." Paris said that the possible new coaches were offered to help VHS cheer in previous years; however, "[Orta] didn't want us because we didn't have mats. If they wanted mats they could have gotten them and now that we have mats [administration] wants [new coaches]… Nothing against Orby, we just want our coaches back."
The "Orby" Seneca Paris mentioned in her interview was, at the time, the rumored new coach for VHS cheer, Orby Orta
VHS administrators have refused to comment at this time regarding all topics related to the cheer protest and the coaching situation. As of May 5, 2022, former coaches Sydney and Sierra Paris have not received a direct answer on why they were fired, other than Cervantes telling coaches that VHS cheer will be, "going in a different direction" according to Sydney Paris. However, many believe Orta has been hired because of a connection between Cervantes's daughter and the new coach, "The principal's daughter, apparently, said that she had connections which is just stating how biased she is and just wanting to change our program which is just getting good," said Seneca Paris.
During the protest, former coaches Sydney and Sierra Paris followed in their car to view the protestors from surrounding streets. Sierra Paris said, "We were notified two days ago by the principle that we were not going to be staying on next year to coach and this came completely as a shock to us. We had been prepping for next year including you know getting uniforms ready and ordered and I'm getting ready for camp, having local business help and so to have [Cervantes] let us know a day before our meeting has been really disrespectful of our time and all the energy we've put in this past year especially since we just won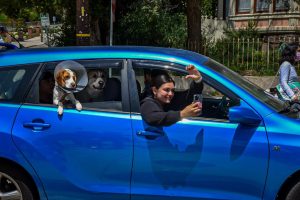 nationals this past weekend." 
Co-coach Sydney Paris said, "She [Cervantes] didn't even wait to tell us to our face, she only told our administrator Val. Basically, she couldn't even wait until we were all there to let us know and gave us absolutely no reason why, other than that they were going in a different direction. So there's a lot of rumors going on about what's going on."
"As a VHS alumni it is extremely frustrating to be treated that way especially by someone who was supposed to be the biggest role model for these kids. Just to see how disappointed and devastated they [cheerleaders] are by this decision and to see them trying to be mature and have conversations with [Cervantes]. I'm hearing that she can't even continue a meeting past 15 [minutes] and won't answer their questions directly, and won't give them answers.. We all just really want answers out of this protest and to know why this is happening, what's going on and what the future will be for us because I think they're all scared of what the future will look like for them," said Sierra Paris at the protest.
This year's cheer co-captain, senior Samantha Carr, attended the protest Friday. She attended because, "This year I've never been more proud to be a cheerleader, because of what they've done for us, and taking away their coaching positions is really taking away the connections that we have to the community and the school." Although Carr graduates this year, this firing has still affected her because of, "All the work that they are out in and everything that they've done and it feels like a slap in the face to them and a slap in the face to everyone else. It just doesn't make sense, and the fact that they took our team to two competitions and won first place and this is the first time we've been to CIF, we got mats is because of them so it is a little confusing why they chose to go in a different direction when they are doing such great things."
About half a dozen freshman boys were in attendance as well. Freshman Deagan James said, "I'm here because I think disbanding the cheer is just messed up there's no reason for it, I'm here for support."
 Another freshman, Kaden Hamilton, added a different approach: "I'm here honestly because student athletes deserve to be heard, they deserve support."
As protesters marched outside the technical school grounds at lunch, many VHS students observed. Junior Reina Vance observed the protest during her lunch break. Vance said "I think it's really interesting. I've never seen anything like this before and I think it's really nice. The fact that [protesters] can stand up for something that upsets them and that they believe in is really cool."  
Sophomore Sam Reiners added, "I think it's pretty badass."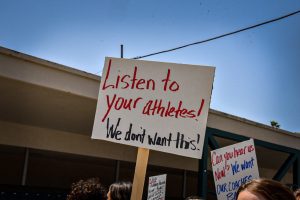 As well as students, parents attended as well. Tera Fontana, whose daughter, Catalina Fontana, is in cheer, said, "The coaches have done a tremendous job. They just won first place at nationals in Vegas. Then they came back and they lost their jobs to someone who wanted to have an all-star team. This isn't an all star team, it's high school… It [cheer] is already hard enough and hard enough work, and what they've been going through, and we need to make it enjoyable, if they wanted to be all star cheerleaders, they could be all star cheerleaders and do this or just do that, The way it was handled lacks extreme integrity and as you can see the girls love their coaches."
As of April 30, coach Orby Orta is confirmed to be taking on VHS cheer for the 2022-23 school year according to an instagram post from @orbyort. This post confirms many of the protesters main concerns, that this new All-Star coach will be taking over. "I am pleased to announce that I am the new head coach for the 2022-23 season. I feel blessed to have the opportunity to be working with such great athletes… This season is going to be epic!" said the post while advertising upcoming tryouts. 
Orta is the head coach and co-director of California Bullets cheer squad and was in an Awesomeness TV show "Cheerleaders" which ran from 2013-2019, where he appeared in 129 episodes, according to Internet Movie Database (IMDB). "The California All Stars is considered the best program in the region and is among one of the best programs in the world. With over 500 National Titles, Grand Champions…" said the team's history page on the website, this list continues to name over 20 other awards and other achievements the team holds. 
"I was selected by the principal and athletic director," said Orta. "I am demanding of my athletes. I hold them accountable and teach them life lessons. All-Star cheer has taught me to accept only my athletes' best efforts. It's a hard sport. It teaches you leadership, grit, accountability and dedication. I plan to teach that to this upcoming team," said Orta on his All-Star cheer coach background. 
Orta said he hopes to bring back "The passion [VHS] has lost for cheer" next season. "My goals are simple. Continue to align with the school's traditions, yet add a twist to it. We are planning on having three teams. Traditional sideline, a competitive team and a CIF stunt team. All will be successful in their own ways," said. 
"I am not trying to change the culture of the program. [VHS cheer is] already an amazing program. I have worked with them in the past. I just want to add to the program. I want to tighten up the ship, take them to the next level," said Orta.
In regards to the protest, Orta said, "I was not aware of the protest therefore unable to comment. This will not affect my coaching strategy. I am looking forward to a positive 22-23 cheer season… I have not been impacted by protestors directly and do not foresee any issues moving forward."