VHS set to introduce new block schedule
State testing requires longer periods
Ventura High School will begin using a block schedule for California Assessment of Student Performance and Progress (CAASPP) testing between May 16 and June 2. The block schedule extends classes to 100 minutes from the regular schedule's 54 minute classes. The school day is also shortened by an hour, with classes beginning at 8:30 a.m. and ending at 3:30 p.m.
AP Computer Science teacher Linda Bergfeld, who is also the Ventura Unified Education Association (VUEA) treasurer, said, "We are required by the state to actually have a block schedule to administer the English, math and science tests to our juniors. It is state-mandated to test them in this environment."
The block schedule only allows for four classes per day. This means that classes are rotated by odds (first, third and fifth periods) and evens (second, fourth and sixth periods). Odds will be held on Mondays and Thursdays, while evens will be held on Tuesdays and Fridays. The exception to this rule is seventh period, with it being held for one hour daily. Wednesdays do not observe the block schedule, instead following the late start schedule.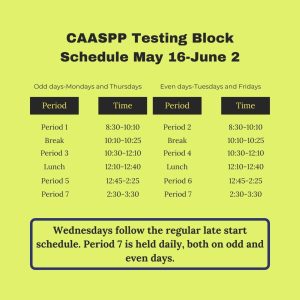 Senior Zachary King said, "We've done block schedules before, so it's nothing new to me. I can wake up later for second period since I don't have a first, that'll be nice. I know Foothill does the block schedule. It seems to have worked for them so it'll probably work for next year's students."
The CAASPP block schedule is set to be used as the regular schedule beginning in  the 2022-2023 school year. This is because of a change to the California Code of Education passed in 2019, which requires high schools to start no earlier than 8:30 a.m. starting on July 1. Under the 2021-2022 school year schedule, first period starts at 7:30 a.m., which violates the mandate.
Bergfeld said, "[The block schedule] was a collaborative effort across the district with teachers. We got input from teachers, parents, district personnel, transportation and students. We tried to get information from everybody. Teachers and staff have to vote on it. It passed with over 80 percent in agreement."
English teacher Jay Locher said, "I voted for the block schedule. I think it's a great idea that we'll practice this year so we can get a taste for it. I've taught in a block schedule before. I think it's better for me as a teacher and for students as well. I think there are lots of positives there, particularly with the late start. I definitely think that there will be some growing pains and adjustments. Some students in some classes may struggle with the change to 100 minutes. I know in research some people are concerned with language classes where daily practice is a benefit. There are also questions about math and if you can move from one concept to the next without the practice time of homework. But I think those are adjustments that are small and are not as important or consequential as we may see from some of the benefits of block schedule."
However, not everyone prefers the planned block schedule. Junior Colin Vecchio said, "I do not support the planned block schedule. I think that it's going to be hard for me and other students to pay attention for that long of a single period. As much as the late start may sound like a good thing, the fact that I have to stay in one class for over an hour seems difficult. However, if this schedule continues to happen following the 2022-2023 school year, I hope that teachers are told that students should get an amount of break within that class so they can have time to stretch and talk to friends."
Sophomore Emma McKenzie said, "I'm excited [for the block schedule]. I think it will be a good change and it'll be nice to have an extra hour in the morning. I think I'll miss seeing certain people or teachers every day."