VHS girls swim just keep swimming their way to victory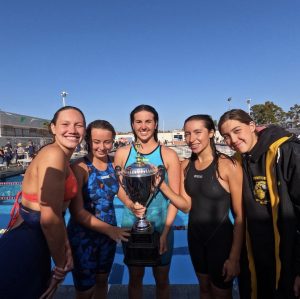 As VHS girls swim team concludes their 2022 season, they have gained a few new titles, by finishing undefeated in the league and winning first place at multiple championships.
"In the future, we hope to continue to win VC champs next year and league again," said team co-captain, junior Lexi Zimpleman. Zimpleman swims distance freestyle events, she said she started swimming because "It was a very individual sport and I was able to work and get better at  my own pace." Zimpleman has been swimming at VHS for three years, "My favorite thing about VHS swimming is the comradery of teammates, and being a team captain makes me so proud of all the girls that have put in the effort to do the best that they can and pulling out win after win it has just made me so happy to help lead this team," she said.
At the Pacific View Championships (PVC) meet on April 29, Ventura girls finished first with 460 points and defeated Buena who only received 219 points. Co-captain,  senior Emily Wright set two meet records in the 200 IM and the 100 breaststroke events. Freshman Sarah Beckman also won two events, the 100 freestyle, and 100 butterfly. Junior Ella Montano won the 50 freestyle and sophomore Macy Dall won the 100 backstroke. 
Another championship VHS won was the Ventura County High School Swimming Championship. Girls won with 528 points and were first in six events with one meet record.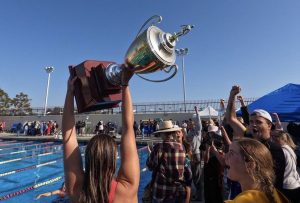 Freshman Sarah Beckman has been swimming since she was eight years old. Beckman said she enjoys swimming, and continues to do so because "Swimming is such a mental as well as physical sport and I love the atmosphere at practice as well as travel meets. I feel great about this season so far and I'm really excited for PVC and CIF [California Interscholastic Federation] and see how far [VHS] can go." Beckman said that her favorite thing about swimming at VHS is, "The people and how fun the atmosphere is. I think it's super unique."

Emily Wright is a senior at El Camino and has been swimming at VHS since freshman year. "I am very confident that VHS girls will finish through league champs as undefeated and take home the win at PVL champs as we are also the reigning Ventura county champs," said Wright. Wright plans to continue her swimming career at a Division 1 level in college, she is captain this year alongside junior Lexie Zimppleman. "My personal favorite thing about swimming for VHS is the support system you gain when joining this amazing team. No matter who or where we are racing as a swimmer, you will always have teammates and coaches yelling and basically screaming at you on deck," said Wright.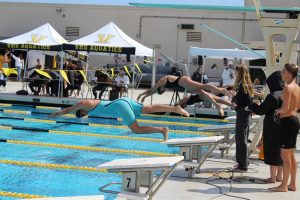 "My favorite thing about swimming for VHS is all the amazing memories and friends you make," said Shelton-Burrier. Shelton Burrier swims the 500 and 100 freestyle, she was encouraged by her grandfather to swim and has enjoyed it ever since, especially because she would like to get a scholarship for her dream college. "This swim season has been great so far, recently the varsity girls won the Ventura County Championship meet so that was awesome," said Shelton-Burrier.
On April 20, 2022, VHS competed against Buena High School, Ventura's crosstown rivals. The girls won the meet. "Our meet against Buena High School was a great competition," said the VHS swim Instagram account (vhs_swimming). "Congrats to all of our swimmers with new PRs and big wins," they said.
"I hold a strong belief that VHS swim and dive will carry on the excellency and passion that we have in the sport of swimming and diving in the county, league, and southern section of CIF," said Wright. The league season has ended, leaving VHS girls swimming undefeated with multiple championships under their belt, next up is CIF.