Majority of approved class novels represent only 18 percent of student body
Required reading part one: As VHS teachers are required by the state to teach novels from a "broad range of cultures and periods," class novels remain consisting of 81 percent white authors
VHS English teachers have access to teach over 74 novels according to the VHS core approved novels list. Of the 74 novels, 14 (19 percent) have been written by authors of color (non-white), which leaves 60 novels (81 percent) written by white authors. 
According to the U.S. Census Bureau, the white race is defined as "a person having origins in any of the original peoples of Europe, the Middle East, or North Africa." While people of color may be Black or African American, American Indian or Alaska Native, Asian or Native Hawaiian or other Pacific Islander (anyone not considered white by the U.S. Census Bureau).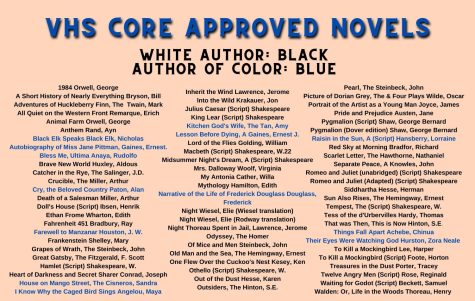 The VHS core approved novels list logs all approved and available novels VHS teachers may teach. If teachers would like to teach different books, they must go through a multi-step process.  "There's a form to fill out, you have to get teachers from other schools to look at the book and sign and [the] administration has to sign off on it. Not everyone wants to take the time to [do it] but some of the teachers do," said VHS librarian Susan Adamich.
As VHS teachers must choose from the VHS core approved novels list, they also must follow state standards and select novels according to the California Common Core State Standards (CCCSS) for reading literature for grades six to 12. These standards mandate that all taught novels must be from a "broad range of cultures and periods" and include "works by writers representing a broad range of literary periods and cultures." 
CCCSS mandates additional standards within "English Language Arts & Literacy in History/Social Studies, Science, and Technical Subjects," that all VHS teachers are required to integrate into their classes, in order to "help build creativity and innovation, critical thinking and problem solving, collaboration, and communication."
With these standards of diversity and relevancy in California public schools' taught novels list, VHS is obliged to follow suit with its novel list. 
In addition to its 81 percent white author rate, the list also reports that white males have written 67 percent of the novels on the list; while only 18 percent of VHS students are white males, according to US News. This is because white students make up 36 percent of the VHS student population and 52 percent of VHS is male.
While 54 percent of VHS students are classified as Hispanic or Latino according to US News, there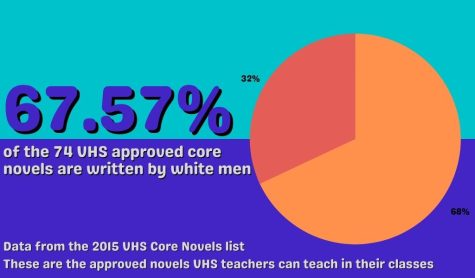 are only two Hispanic or Latino authors' novels on the list: "The House on Mango Street" and "Bless Me, Ultima."
"People of color and women should be more represented on the list, especially in our school that is so diverse, they should be represented in our novels we read. It's important to have representation so that the students can feel represented," said junior Jane Armstrong.
Linda Bergfeld's third period AVID class of freshman and sophomores were surveyed on their opinion on the lists statistics. Out of 36 students, four were surprised by VHS core approved novel author statistics, while 32 expected them (50 out of 74 by white men, 14 out of 74 by authors of color, 16 out of 74 by females). When asked if the VHS core approved novels list should have a wider range of novels, all 36 students said yes.
VHS English teacher James Locher teaches 11 novels to his English 10 honors classes. Locher said, "I choose [to teach] books that I enjoy reading, that I believe students will enjoy reading, that are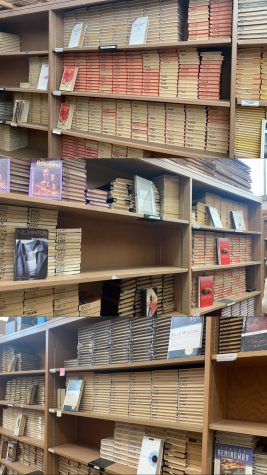 examples of works of literary quality and merit, that are diverse in time, gender, voice, etc. and that connects to our curricular goals. I think that students need to read a variety of texts – classic, modern, international, etc. – from different genres, times, cultures, voices, etc."
Because Locher is a California teacher, he is required to follow the CCCCSS and its standard to teach novels from "broad range[s] of cultures and periods." Even so, two of the 11 novels he teaches in his sophomore classes are by non-white authors.
Additionally, one of his chosen novels has been written in the twenty-first century: Sherry Turkle's "Alone Together," which was published in 2011. Turkle is one of only two female authors on his list, alongside Ursula K. LeGuin, who leaves over 81 percent of novels in Locher's English 10 honors classes written by men.
On the subject of gender diversity, 16 out of the 74 novels on the VHS core approved novels list have been written by female authors. This leaves 21 percent of the novels written by females, in contrast to 79 percent male, while 48 percent of VHS' population is female, according to US News.
"I think that the list has just an unnecessary lack of diversity and I feel like at this point in 2022, [the diversity] can be improved," said junior Ruby Laques.
"Even as the world works towards a more progressive future, the sphere of education has yet to make significant steps towards progress. Literature choices are limited for students and require them to view our society through a certain lens — the lens of white men in particular. English classes need to diversify the literature that students are obligated to read," said California high school journalist Yejin Heo in her opinion article "A change in education — diverse books for diverse students." 
"An increase in multicultural literature around the world can provide self-empowerment in students, cultural pluralism and fresh perspectives for students and teachers alike… Focusing on how [minorities] act in relation to others and events [in literature] provides an opportunity to examine different behaviors and characteristics across cultures," said Heo.