Chemistry cruises on over to Santa Cruz Island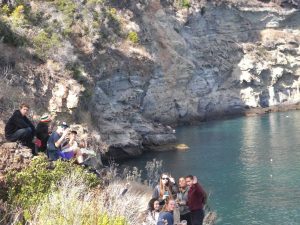 On Thursday, November 2 Ventura High School Chemistry teachers Karen Reynosa, Woody Maxwell, Schatzi Sovich and Chris Jaquette allowed 46 students from their classes to go on the annual Santa Cruz Island trip.
The students met at 8:15 a.m. at Island Packers. From there, the students and chaperones got on the boat to Santa Cruz Island, departing the dock at 9:00 a.m.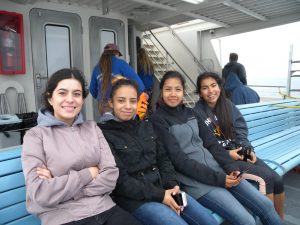 Maxwell stated, "We got on the boat and it was beautiful. There was no wind." Maxwell then explained that this disappointed some students who wanted to get their hair wet off the side of the boat.
The students made sure to stay on the lookout for migratory and resident birds, whales, dolphins, seals and sea lions, and other life forms on their trip.
Once near the island, the students were divided into four groups and used smaller skiff boats to get onto the island. Two groups started from one end of the trail and the remaining two groups started their hike from the other side.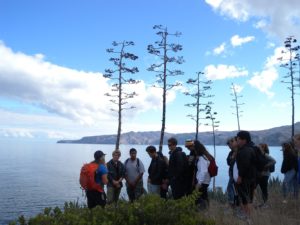 "We hiked like two miles from Pelican Bay to Prisoner's Harbor," stated junior Rafael Perez.
While walking through the Nature Conservancy area of the island, the groups discussed the role of CO2 in the atmosphere and its affect on marine and terrestrial life forms.
"My favorite part is when we stop for ten minutes and we just sit and listen to nothing. Which is really rare to just have no sound except for the wind, or if you have good ears, the waves, or the birds or the crickets, or whatever animals there are. Everyone I've asked [said] that's been their favorite," Maxwell said.
The boat was estimated to arrive back at the Harbor at 5:00 p.m. unless delayed by whale watching on the way back.
Overall Gutierrez stated, "It was exciting to see different flora and fauna like the island fox, sea anemone, and there was some beautiful views. Although it was a trek, it was well worth it in the end."