VHS hires students to work at the snack bar
VHS pays students to help prepare food and handle orders at the snack bar
Over 2,000 students are enrolled at Ventura High School. Every single day, VHS students are provided two meals, breakfast and lunch. VHS must prepare in order to provide over 2,000 students with two meals every day. VHS hires people to work the cafeteria to provide students with food. VHS has recently hired a few of its students to work the snack bar and to help the cafeteria staff.
There are many jobs that snack bar workers are paid to do. Snack bar workers handle any job they are tasked with, ranging from manning the cash register to helping cafeteria staff make the food VHS students, and even some teachers will later eat.
VHS staff snack bar manager Danna Klein said, "[Students] work the registers selling snacks and serving slushies, pizza, chips [or] whatever there is to sell. Sometimes we have them work on the line [outside the snackbar] or help make sandwiches. [They do] any little task that needs done."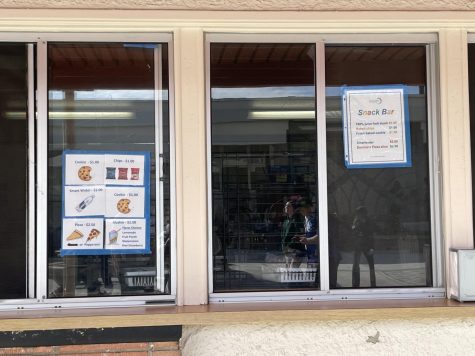 Snack bar worker Augustin Ibarra '25 said, "When you think about it from the outside, you think they just pass out food and there's not a lot of huge work, but there's a lot of preparation that goes behind the [snack bar]. But [the cafeteria staff] were really nice and they gave me a tour of everything."
Working at the VHS snack bar requires its workers to give up most of their nutrition and lunch breaks to do their job at the snack bar. They are paid 15 dollars an hour and spend around an hour a day working. 
Snack bar worker Sophia Soza '25 said, "You get to meet new people [while working the cash register]. You can sort of build a relationship with all the people like the regulars and stuff."
Kezhiah Mabanta '26, "I would generally [work at the snack bar] anyway because my mom and everyone else taught me to help people that need help, so when it said 'looking for students' I didn't even know there was money."
Brie Cheatham '26 said, "[Working at the snack bar] is really fun because I've never been able to talk to the cafeteria people before and they're really nice people."