What do students think about Fiona Apple removing her music from TikTok?
Students share varying perspectives regarding the 90's artist's decision
Fiona Apple, an artist who began releasing her music in the 1990s, removed all of her music from the social media platform TikTok Sept. 1 for unclear reasons. The commonly streamed song "Criminal," which was released as part of her first album, "Tidal," in 1997, was her only single to break the Billboard Top 100 and has been frequently heard on trending TikToks until recently. A few of her other songs, including her cover of "Across the Universe" and "Paper Bag," were also trending songs that can no longer be accessed on TikTok. How do Fiona Apple fans at Ventura High School feel about this?
Jasmine Bruns '23 said, "I think it's a good thing that she removed her music from TikTok. It is her music and she has authority over it. It should be viewed as an act of independence rather than an act of selfishness." 
Bruns said, "Apple is known to write her songs on personal events which are considered to be sensitive topics. When a 15-second snippet of her song is trending on TikTok, people could misinterpret its meanings and take her lyrics out of context … Apple's songs display a specific representation of her life and they should be interpreted in the way that she had initially intended."
A conspiracy theory regarding Apple's removal of her songs is that she did not want to represent the aesthetics on Tik Tok that are considered to be trendy. According to Ashley King's Digital Music News article "Fiona Apple's Music Suddenly Removed From TikTok," "Fiona Apple saw that people on TikTok were appropriating her music for their shallow, reductive aesthetics that do nothing but fetishize female pain."
Bruns said, "She has a niche fan base and when her music starts to become a trend, new fans may only recognize her trending songs and only listen to her because of Tik Tok… I am not sure if she removed her music to keep a specific fan base, but it will probably work to keep her fans as people who relate to her music versus people who listen because it's trending."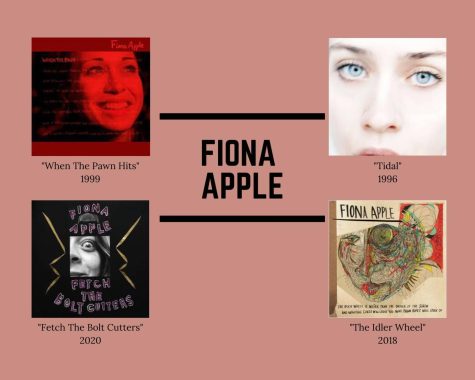 Abigail Block '23 said, "I personally don't really care that she removed her music, but I just don't understand why she would want to keep her music underground. It doesn't seem like a good marketing technique, but I guess she doesn't necessarily need the money … I still listen to her music, I am just no longer able to use her songs as a sound on Tik Tok." 
Block believes that Apple will give herself a bad reputation and should add her songs back onto the social media platform.
As of now, it is still unclear why the artist decided to eliminate her songs from TikTok as well as whether or not she will be adding them back onto the platform.