Student band Loop 83 performs at Topa Topa
The high school band plays their second live performance at the premiere of the surf and skate movie "Strangeways"
On Nov. 18, at the Topa Topa Brewing Company on 104 E Thompson Blvd., an Innocnts surf and skate movie titled "Strangeways" premiered. Local band Loop 83 played after the video premiered. They played a total of 13 songs around 8:30 p.m. Loop 83 consists of 4 VUSD high school students: VHS's Jack Gordon '23 plays rhythm guitar and sings backup vocals, Fletcher Freeman '23 plays drums, Reid Kemble '23 plays the bass and Foothill's Aidan Connelly '23 plays lead guitar in addition to singing lead vocals.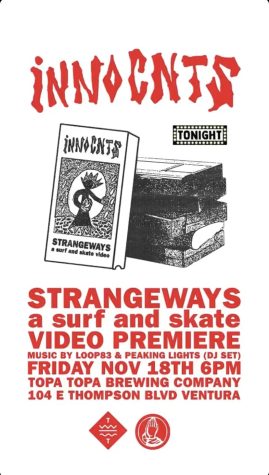 Loop 83 began their set list with "Intro", the first song on their 2022 album "It Also Rains In Summer." Jack Gordon '23 said, "[I like 'Intro'] because it's really funky." Gordon also said, "[I like ] 'Watch What You Say' because it's really fun to play live and everyone really likes it." 
Based in California, Innocnts claims to be a lifestyle-based project driven by connections to art, surf and skate communities. Innocnts posted an Instagram post on Nov. 12 stating that "Strangeways  is "Inspired by an interest in 90's and early 2000's surf / skate videos [and] is a 30+ minute edit in homage to that kind of vibe." 
The movie puts emphasis on the fact that it is based on friends surfing and skating to good music without sponsors or professionals.
This is the band's second live performance. They played in Downtown Ventura on Oct. 15 from 6 to 8 p.m. They had special guest appearances from other VHS students and played their entire set list to anyone walking down Main Street.
Friends, family and even VHS staff came out to support the band. Jack Gordon '23 said, "A lot of familiar faces were here and a way better crowd turnout than I thought there was going to be, so it was a really fun time and we got to see a lot of friends."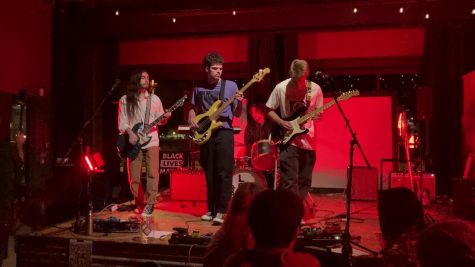 Loop 83 most recently released their single "Malibu" on Oct. 21 of this year. The band has not announced plans to release another album. Bennett Torgerson '23 said, "I think they should come out with a new album as soon as possible."