"Bomb cyclone" storm hits Ventura County; brings along heavy rain, floods and mudslides
California Governor issued a state of emergency, VUSD schools remained open
With a week of severe weather, VHS staff and students have had mixed reactions. While reports seemed ominous, VHS stayed open and many welcomed the rainfall.
According to the National Weather Service, the storm known as the 'bomb cyclone' brought up to 2-4 inches of rain and winds as high as 45 mph across all waters in Ventura on Wednesday, Jan. 4 and Thursday, Jan. 5. 
Leslie Caldera '24 said, "I think [the storm] is perfect. [The rainstorm] is something that we needed since we're in a drought, and it will make Ventura County look more green." 
VHS Chemistry teacher Woody Maxwell feels good about the rain, "we need all the water we can get" he said.
"I [have] a weather station in Moorpark when I taught there in 1980[s] and then I moved [to Ventura] in 1995 and got another weather station… then Donors Choose bought me a really nice one about ten years ago. I've been charting the weather in my room since 1997," Maxwell said.
A weather station is "a collection of instruments that measure atmospheric conditions to help study the weather and climate of a specific location," according to the Weather Station Advisor.
While students and staff did like the rain, many despised the damage and destruction that came along with such a severe storm. 
VHS Math teacher Mark Tolkmitt said, "We needed the rain really bad […] I don't like to see the destruction, that's not fun, I wish it would've been a little less intense."
Julia Cruz '24 said, "The rain storm… was really nice but it was scary seeing how it caused roads to be shut down and people [having] to evacuate their homes." 
Libby Gallo '24 said, "I loved the rain when I was warm at home by my fire. The sound helps me stay focused if I need to study or read. At school [I didn't like] the rain because I felt like a wet dog."
Tracking the storm:
In a press conference held on Wednesday, Jan. 4, Nancy Ward, California State Director of Emergency Services said, "We anticipate this may be one the most challenging and impactful series of storms to touch down in California in the last five years."
According to the National Weather Service, "surf will be dangerously high for the Central Coast and Ventura Coast on Thursday [Jan. 5] where heights range from 12 to 22 feet. Breaking waves in excess of 15 to 20 feet can cause pier damage and lead to coastal flooding." 
California Governor Gavin Newsom declared a state of emergency on Jan. 4. Newsom said, "California is mobilizing to keep people safe from the impacts of the incoming storm. This state of emergency will allow the state to respond quickly as the storm develops and support local officials in their ongoing response." As of Monday, Jan. 16, the State of Emergency is still intact.
The National Weather Service recommended that all beach-goers stay back from the water's edge and the rocks. Although the rain continued into Friday, Jan. 6, the heaviest rain was on Jan. 5. 
According to ABC7 News, Ventura closed its pier due to the threat on Wednesday, Jan. 4 at around 5 p.m. through Friday, Jan. 6.
On Sunday, Jan. 8, President Biden also declared a State of Emergency in California, As of Monday, Jan. 16, this State of Emergency remains active.
Multiple waves of heavy rain and snow happened in California on Monday, Jan. 9, and strong winds as high as 60 mph hit the coastline, along with 2-4 inches of rain which struck the lowlands of California, as well as Ventura County according to the My Radar Pro App 
KTLA 5 News said, "Coastal areas and valleys including Oxnard and Camarillo had received over an inch of rain by early Monday [Jan. 9] afternoon with two to six inches of rainfall at higher elevations, causing street flooding in low-lying areas."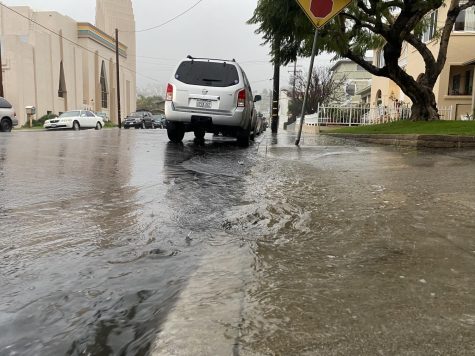 On Monday, Jan. 9, an evacuation warning was issued for the Ventura Beach RV Beach Resort up until Tuesday, Jan. 10. The evacuation order has been lifted, but the area remains closed due to flooding as of Monday, Jan. 16. The Ventura Pier is still closed until further notice. 
Ventura experienced an additional 1-2 inches of rain the evening of Saturday, Jan. 14, and early evening of Sunday, Jan. 15.