Book drive to raise books for Malawian children
FTHS imported the two-month-long book drive to VHS
From Jan. 7 to March 7, VHS students can donate pre-K through eighth-grade level books to the Girl Up book drive. The book drive is run out of English teacher James Locher's room 208, though there are also donation boxes in English teachers Erin Jones' room 209 and Mary Dietz's room 211. The book drive's goal is to collect 1,000 books by March 7 for the construction of a library in Malawi. 
Foothill Technology High School's Girl Up club created the book drive, and it extended the book drive to VHS due to its skepticism of reaching its 1,000 book donation goal at FTHS. FTHS Girl Up club co-president and student Claire Hadley '24 and co-communications director and student Natalie Schermer '24 organized the book drive through the African Library Project. Schermer contacted VHS and Buena High School for their support. 
Hadley said, "Getting 1,000 books is going to be really difficult with a small school like Foothill so we wanted to extend it to Ventura and Buena so Natalie reached out to [them]. Ventura was the only school that responded. We just don't have the student body to [donate] all the books we need."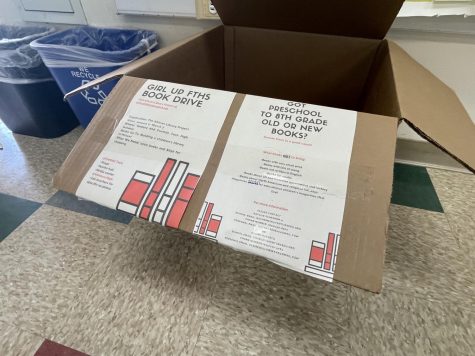 Schermer said, "I emailed Mrs. Larson because I found out she's the ASB director. Then Mr. Locher reached out to me and [said] he would really like to help. We had been in contact and he decided to help out."
Locher said, "[Hadley and Schermer] brought the boxes to me at the start of January. Mrs. Larson forwarded an email to teachers to see who might be interested in supporting these two young ladies. I know Natalie Schrermer from years ago. I was happy to help them."
The FTHS Girl Up club must spend $650 to ship its donated books to Malawi and is planning to hold a garage sale in late February. 
Hadley said, "We've been giving our money to the Girl Up organization. What they do with it is they go to different areas across the world and help women who are poor, like they'll do drives for women. They'll educate them. They'll put together fundraisers in different countries that will give beneficial money to women so they can make their lives better."
Schermer said, "We wanted to do a book drive in general. We thought Girl Up would be [a good option] because they're about education, so we thought partnering [with them] would be a good idea."