Ventura High School varsity softball strikes Buena High School out
For their eighth game this season, VHS battled cross-town rivals BHS for the win
VHS varsity girls softball played in a rivalry game against Buena High School on March 17 at 3:30 p.m. They defeated Buena with a final score of 11-8. The game was at VHS' home field with many supporters filling the stands and sidelines from both BHS and VHS. ASB made posters in support of the girls that were up around the field. 
Samantha Barnard '23, who plays first base, said, "The adrenaline rush is like no other [when we're playing Buena]." 
Cecilia Perez '23, who plays third base, said, "My mindset was just to stay positive and drown out all the noise from [BHS'] side. We cheered a lot honestly [and] we had pizza before the game in a classroom."
At the end of the first inning the score was 1-3 with VHS in the lead. 
After having a couple previous games canceled, the girls team came back and they came swinging hard. Due to the recent heavy rain in Ventura, both softball and baseball games against BHS were rescheduled so that the players weren't put in harm's way by slipping from the muddy field. 
Chloe Simpson '24, who plays first base and right field, said, "So far we have been doing pretty [well this season]. Our team was so excited about the win." The team has played eight games so far and is 4-4.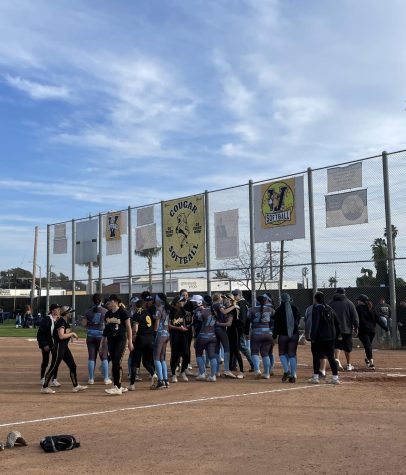 "I am most proud of my hitting but in general for the whole team, I am most proud of our defense," said Barnard. 
By the end of the fourth inning the score was 4-9 still with VHS in the lead.
"The most exciting part of the game for me was the last three outs because I just knew we had it," said Perez.
The game was close with the final scores being just three points apart. 
Perez said, "I am really proud of how the team stayed and came together. We all hit, never relying on [just] one person."
Barnard said, "The most important part of the game I would say is cheering, staying positive, keeping the energy up and just never letting up."