LGBTQ students and allies welcome at the GSA
The club open to people of all identities
The VHS GSA, a club dedicated to LGBTQ students and allies, formerly stood for the Gay-Straight Alliance. Today it stands for the Gender-Sexuality Alliance, a change made to reduce social stigmas and include people of various sexual and gender identities. 
GSA President Thomas Funnell '25 said, "The purpose of the GSA is to create a safe space for any LGBTQ person or ally and provide a space for anyone who wants to learn about the community. [Gender-Seuxality Alliance] is more inclusive to everyone, which is why we changed [the club's name]." 
The GSA has 10 members and two leaders: Funnell and vice president Reece Pickett '23. The club meets during lunch every Tuesday in room 102 and focuses on spreading awareness about the LGBTQ community on campus. 
Funnell said, "In our club, we like to publicize issues, especially at school and around the world. We like to educate ourselves about queer history and how the LGBTQ community has changed over time, and how it is now. Most recently, during [the] food faire [on Nov. 18, 2022], we handed out pamphlets with a bunch of different organizations on them which [are] devoted to helping queer people."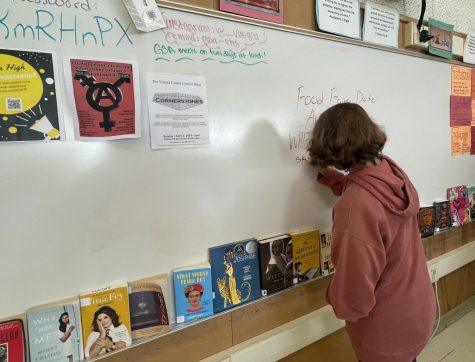 To join the club, students need only attend its meetings. The only requirement to join is that one must be an ally of the LGBTQ community. 
Funnell said, "An ally is anybody who supports the LGBTQ community and goes out of their way to support people when they're being mistreated or underrepresented in spaces that talk about them. Being an ally is a [criterion] for being in the club in the first place because if you're not willing to be an ally in the first place, there's not much we can do to help [them]. You can be an ally and identify anyway. Being an ally just means that you want to be active in assisting, aiding or learning about the community."
Naomi Wronkiewicz '26, a GSA member, said, "[At the GSA], I feel like I can be who I want and say what I want without being judged."
The GSA has not stopped in its advocacy for the LGBTQ community. During the last or second to last week of the 2022-23 school year in June, Pride month, the GSA plans to hold a Pride-themed spirit week to spread awareness about the LGBTQ community. 
Funnell said, "[Some are the proposed spirit days are] bring a queer flag to school, wear rainbow colors day and a photo shoot where everyone is arranged in a rainbow. We [want] to have queer history day with [daily announcement] slides about queer figures in history who made a lot of changes for the better."