ASSETS tutors and more in the cafeteria
Homework help, tutoring, field trips and more are available at ASSETS
Between the end of period six and 5:30 p.m., about 50 students will attend ASSETS, a voluntary-attendance after-school program held in the cafeteria every school day. ASSETS supports its members, academically and otherwise, through a variety of means. These include tutoring, homework help, art projects, a space to socialize, credit recovery through APEX online classes, career exploration opportunities and a free snack. 
According to ASSETS' mission statement, "ASSETS at [VHS] will provide a safe, supportive and nurturing environment for students to pursue enrichment, physical fitness, nutrition awareness and academic credit recovery while practicing life skills. The ASSETS program is designed for students, by students, and will enrich the overall [VHS] culture and experience."
Sabrina Vasquez '26, an ASSETS member, said, "[I come to ASSETS] mainly to just hang out with my friends. [Other times,] I do homework or I just use my phone. Or sometimes I'll play some games."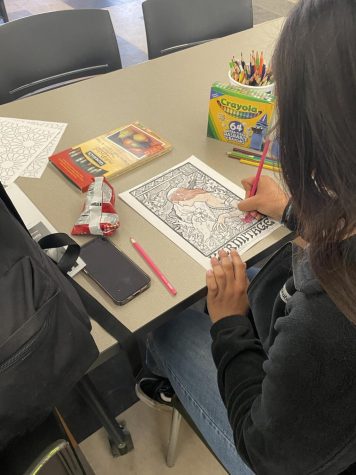 In addition to ASSETS' regular activities, it also hosts field trips. So far, the program has sent students to the Pali Institute: Outdoor Education Center in Running Springs, Calif. And the Firestick Pottery Studio in Ojai. Planned field trips include one to the Santa Barbara Art Museum, Grassroots Yoga Studio, E.P. Foster Library and a tour of VC.
ASSETS Program Director Laura Van Auker said, "ASSETS is funded through [the 21st Century Community Learning Centers] federal grant, and it is intended to provide enrichment which is complementary to the curriculum. It is [also] intended to provide tutoring and support for students. So ASSETS is basically a safe, healthy place for teens to be and to help get their needs met outside of their school day."
Van Auker said, "We have pool ping pong, there's games, there's always art activities going on. And then we have our tutors. Here there are two tutors that can do any subject, Monday through Thursday. So kids can get help with homework. And we often go outside and do physical things, like we play wiffle ball out on the senior lawn, or we might play nerf football. So there's a good combination of academics and doing fun things that help us take breaks between."
To join ASSETS, students can collect a permission slip from Van Auker during ASSETS, which must be signed by a parent or themselves if they're over 18 years old. Once they return their permission slip, they become a part of ASSETS.
Van Auker said, "This is a really wonderful resource that the school has available to kids and I would encourage students who haven't come to ASSETS to come talk to me or come sign up or come join a field trip. You can always come for one day and do the field trip or the art project for that day. We welcome everybody."