Felix Cortez steps down as basketball coach
Cortez's career spanned from 1986 to 2023
On April 20, former varsity boys basketball head coach Felix Cortez '83, a VHS alum, coached the basketball team for the last time. It was his last official day as head coach. Cortez stepped down after coming to an agreement with the VHS administration to leave coaching, ending his 37-year-long career coaching basketball at VHS, with his first year at VHS being the 1986-87 school year. Cortez now works with athletic equipment and performs custodial duties, which he does with the VHS PE program. He plans to continue working in that position for the foreseeable future.
Cortez said, "37 years is a long time. I think my [coaching] style is a little bit different than what the kids nowadays want. [It's] not that I don't get along with them, I just have an old school approach. I think kids want some more freedom on the court and more chances to be creative. To me, a team sport is the old school."
Cortez has noticed the divide between his coaching style and his players for years, but he said that it became especially pronounced after the COVID-19 pandemic. Although he saw changes in VHS basketball culture over his coaching career and since his playing career for VHS in the early 1980s, he said that the changes that motivated his departure were about player mindset, not athleticism. Cortez said, "I actually think the players [today] are more athletic [than when I started coaching at VHS]."
Principal Marissa Rodriguez said, "A discussion about the [basketball] program led to a mutual decision. Athletic programs are reviewed with coaches frequently. Our discussion led to a mutual decision to go in a different direction with the boys basketball program effective immediately and for the [20]23-24 school year. Coach Cortez dedicated [37] years to the program and we would like to thank him for his commitment and dedication to our Cougars."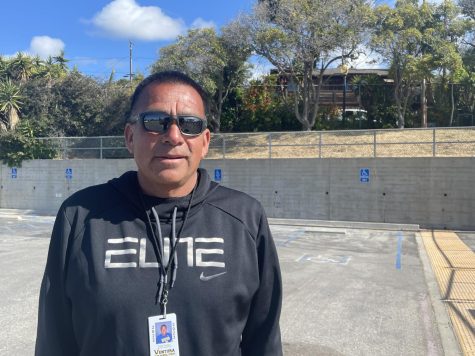 Cortez said, "I was able to coach in five CIF finals [and two state] finals. But the most important thing is the relationships that I've been able to develop with my former players, my peers, my colleagues from throughout the county and [in] our leagues. I think those are [my] greatest accomplishments because ultimately when we work in this business, it's about kids. It's about relationships. VHS has afforded me [the] opportunity to be the best I could be."
Jack Rose '23, a varsity boys basketball player who Cortez coached, said, "[Cortez] coached here for over 30 years, and has stuck with the program through its ups and downs. You won't find a person, coach or not, who is more passionate and loyal to Ventura High athletics. What was always clear with coach Cortez was that he placed a great emphasis on personal accountability, togetherness, playing with respect and honor and above all, playing tough. No matter the coach, there is always bound to be pros and cons, but one thing I don't think anyone ever questioned was coach Cortez's care and interest in each of his players' lives, both on and off the court."
In addition to his current position at VHS, Cortez is on the Ventura Education Support Professionals Association negotiations team. The VESPA is a union that represents classified VUSD employees, a portion of district employees. He sits with teachers and VUSD administrators to develop contracts and other union regulations. 
Cortez said, "I have been involved in basketball for the last 44 years of my life. It'll be fun to see what the next chapter [of my life will be]. I don't know what it's gonna be. [But] I couldn't be prouder of VHS and VHS basketball and the direction that we're going, we're very very healthy financially. We've got some really nice young players in the program and I really think the program other than wins is headed in a great direction. Best wishes to the next coach and I'll support them. Once a Cougar, always a Cougar, that's who I am."
Cortez said, "Thank you [VHS] for letting me be a part of it as a coach for as long as I have, and I think my gratitude for that outweighs anything that is bad, good or indifferent. I'm very thankful for VHS and what [it's] given me."