Cougar critique: "Untamed"
This non-fiction No. 1 New York Times bestseller leaves readers questioning things about their own lives
"Untamed" is a memoir by Glennon Doyle published in March of 2020 by The Dial Press. The book revolves around Doyle's real life. "Untamed" is a great memoir but leaves readers with a lot of much-needed self-reflection. 
Doyle's book begins at the zoo. Her family is watching a cheetah. It is then that Doyle realizes she is just as tamed in her current situation as this cheetah is at the zoo. Doyle feels as though she's spent her entire life in a cage, just like the cheetah. 
From this point on in the book, Doyle writes all about how she has been tamed previously and how she broke free from her cage. She had been previously tamed by her marriage, boss and church.
Doyle then begins to write about how she fell in love with a woman while she was promoting her book "Love Warrior," which was written to tell the love story between her and her husband, Craig Melton. This book shows how Doyle found herself and found tools to help rebuild her marriage with Melton. The only problem with the book became the fact that while promoting it, her marriage was falling more and more apart. Her husband was caught having an affair, and she was secretly falling for a girl she met at a work conference, Abby Wamboch. She was telling the story of her love, but it was all a lie.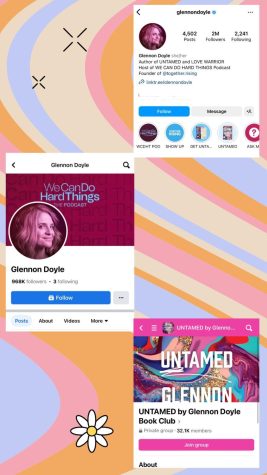 Doyle then had to make a serious decision. She had to decide whether or not she would leave her husband and pursue a relationship with the new woman in her life. Before Doyle's now-wife Wamboch, Doyle had never been with a woman. The book discusses Doyles' internal and external struggles with what seemed to be the biggest decision of her life, then shows how Doyle found peace and became "Untamed." I thought this part of the book was really interesting because divorce is something that happens commonly. 
To me, Glennon Doyle's book displayed many different messages. A few of my favorite messages are that being a human is hard because you're doing it right, hard work matters and you do not have to tell everyone everything. "Untamed" also discusses many different topics, such as relationships, family, religion, eating disorders, mental health and parenting. Overall I'd recommend this book, although I didn't relate to all of the topics brought up. I thought the book had an overall message of finding yourself and not doing things to please other people, which I thought was very important.