Pies fly, money flows
The whipped cream pie fundraiser raises money for the Reader's Faire at VHS
On May 19, the VHS English 10 honors classes held a pie-throwing fundraiser in which students of all grades could buy whipped cream pies and throw them at their preferred teacher out of the available options. The teachers who participated were James Locher, Nathan Donnelly, Karen Reynosa, Edward Pacula, Craig Carey and Elizabeth Mainz. The prices ranged from $1 to $5 for different amounts of pies. The money raised through the purchasing of the whipped cream pies will go into the Reader's Faire, which is an event held by the Honors English 10 classes to read to kids of elementary grade level in VUSD.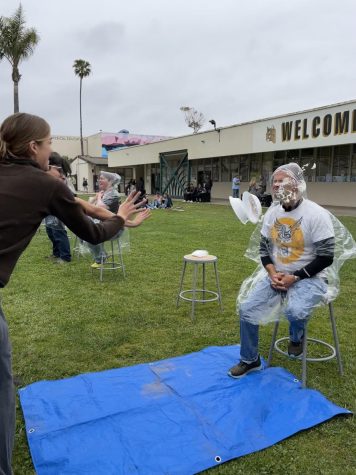 Ariadna Alvarado '25, an English 10 honors student, said, "I'm really excited. It's gonna be a fun event. We are hoping to be able to buy more shirts for the elementary kids."
The Reader's Faire is held once a year, and the funding raised by the whipped cream pie throwing contest will be towards purchasing T-shirts for VHS students participating in reading to the elementary grade students as well as for the elementary school children. Locher also teaches AP Literature & Composition.
Angel Simon '25 said, "I'm spreading the word [about the pie throwing fundraiser], going class to class, I'm announcing it to people [the pie throwing fundraiser] to try and get more people to buy our [English 10 Honor] pies." Simon also said, "I'm excited, I'm looking forward to Friday, it's going to be a great event."
Students such as Simon and Alvarado were able to spread the word for the fundraiser to help make the Reader's Faire a successful event, which is annually planned and coordinated by  Locher and Mary Dietz, who are the English 10 honors teachers. 
Celia Young '25 said, "I think the [whipped cream pie throwing fundraiser] is going to be a fun experience for everyone."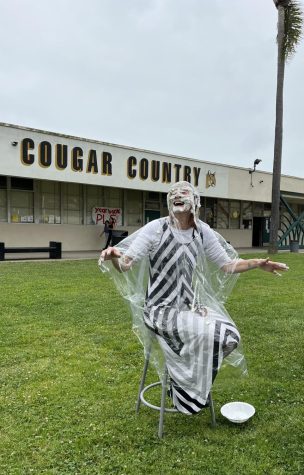 Seniors from the AP Literature & Composition class will be able to visit elementary schools as opposed to English 10 honors students who will stay on the VHS campus to read to the elementary grade students at the VHS gyms. Every year the Reader's Faire has a theme, and this year it is "Through Time and Beyond."
Young estimates that the revenue of the fundraiser was above $200.