Sadie Engelhardt zooms past the competition
The sophomore already has several running records
In June 2021, Sadie Engelhardt '25 broke the world record for the shortest mile time for females aged 14 and under in Huntington, Ala., with a time of 4:40.16 minutes. She broke a nearly 50-year-old record set by Mary Decker in 1973, who had a time of 4:40.1 minutes, which Engelhardt shaved by six centiseconds. At the time, Engelhardt was an eighth grader at Cabrillo Middle School. Engelhardt would later join the VHS cross country and track & field teams, where she continues to perform as a runner. 
In addition to her world record, Engelhardt holds the national records for female freshmen competing in the mile, 3,200, 1,600 and 1,500-meter events. She holds the California state high school records for females aged 15 and under in the 1,500 and 1,600-meter events. 
Engelhardt began running in the fourth grade when she started cross country at Poinsettia Elementary School. She gradually became a more competitive runner, joining track in middle school. Engelhardt knew she had tremendous running potential when she ran a 4:40 minute mile in eighth grade. During the fall of the 2021-22 school year, she joined the VHS cross country team, which began her running career at VHS. 
Engelhardt said, "[Running] only really got competitive [in] eighth grade. By that, I mean harder workouts and actually traveling to go to races and things like that. Then I got to high school and I think everything was new and exciting for running. That kind of kept me going during my freshman season. My passion is running, and that excitement from [my] freshman year has kind of bled over into sophomore year."
Tyree Cruz, the distance coach for the VHS cross country team and track & field team, said, "[Engelhardt] likes to work really hard. She's dialed into her mileage and what she's doing. She's really goal oriented in trying to break [her] records and chase after those mile times. She loves being part of the team and everybody loves watching her race."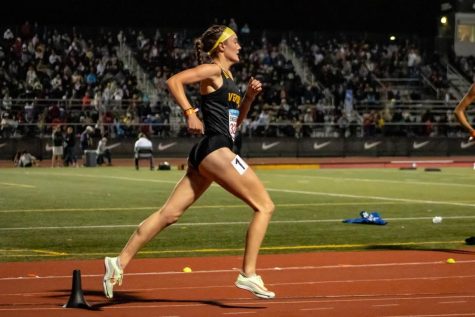 Engelhardt runs 40 miles a week as of May, but she has no desire to slow down. Instead, she hopes to increase her weekly mileage as she gets older. She said, "[I'm] very cautious about my mileage just because I am still a sophomore. Even though I'm running against girls that are running like 50, 60 miles a week, I have to remember that I'm an underclassman, and that I have so much more potential down the line. I don't want to ruin it all now."
Nick DeGeorge '24, a member of the VHS cross country team and track and field team, said, "She's different from a lot of other runners because she's humble [and] never brags, and is willing to work hard for others, not just herself. She definitely deserves all the success she has received."
Engelhardt will compete at the 1,600 and 800-meter events at the 2023 CIF State Track & Field Championships in Clovis, Calif. on May 26 and 27. She will later race the 1,500-meter event at the Portland Track Festival in Portland, Ore. on June 4. Then, she will race in Philadelphia, Pa. to break her 800-meter personal record of 2:05 minutes and compete in the mile event. In her final scheduled event, Engelhardt will compete in the USATF U20 Outdoor Championships, an outdoor track and field competition, in Eugene, Ore. on July 1 and 2, where she will compete in the prelims, which will determine if she moves to later rounds.
After high school, Engelhardt wants to pursue a professional running career. She said, "Going pro is kind of like every runner's dream. Just like doing what they love, which is running as a career. I'm excited because I can finally talk to colleges [in mid-June]. I like the pressure that comes with [my] records and stuff like that. Those bars that I work towards help me stay motivated."
Engelhardt said, "[I got here through] hard work and consistency, especially when times are a little bit hard. You don't necessarily want to run at some points. But just staying on the grind is what got me here."