C U at College
Closing out the school year in the fourth quarter, seniors are beginning to choose which college they will attend in the upcoming fall. A popular option is the UC system, a group of California universities, and is one of the leading public university systems in the world. There are ten locations, including UC Berkeley, UC Davis, UC Irvine, UCLA, UC Merced, UC Riverside, UC San Diego, UC San Francisco, UC Santa Barbara and UC Santa Cruz. Approximately 90 percent of undergraduate students attending a UC school are California residents. The tuition is also a third of the cost for in-state students compared to those from outside California, according to US News. 
Jack Rose '23, who will attend UCLA, said, "UCLA has always been one of my top choices. My family members are big Bruin fans so from an early age I always recognized UCLA as somewhere I wanted to be. I think it offers a great balance of challenging academics and a vibrant student life." 
Which Cougars foresee a UC in their future?
UCLA and UC Berkeley go back and forth in their rankings among national public universities and within the UC system, currently tied as the best public university by U.S. News. 
Hannah Stamp '23, who will attend UCSC for marine biology, said, "I was planning to go to community college, but I got an email saying I got off the waitlist. So I rushed up there to tour it, and I fell in love. The campus was beautiful and I got in for my first choice for my major, so I decided to commit." 
UC universities are ranked well for academics as well as social mobility, making it competitive for students applying. Stamp said, "I am excited to be living somewhere new and excited. I have never really been up to Santa Cruz much so I am excited to explore and live in some colder weather."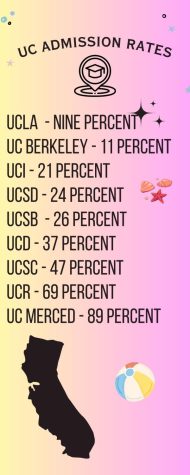 Rose said, "I'm really looking forward to being in a highly competitive environment. Both internally with my classes, and externally within the great rivalries UCLA has with other schools." Many of the UC schools offer D1 athletics, including UCLA, providing social and athletic opportunities.
 "VHS definitely prepared me in the sense that it helped me connect with a lot of great adults that have helped me get to this point. I'm very grateful to have a lot of people here who I can rely on and trust to give me good advice," said Rose.
 "I definitely knew what I needed to do to get [ to college], it just took a lot of time and energy to actually get it done," said Stamp.