Why are so many students going to Brown University?
With four people committed to Brown, VHS' class of 2023 boasts the most Ivy League commits it has had in years
Brown University's admissions rate for the class of 2027 was a startlingly low 3.88 percent for regular decision and 12.95 percent for early decision, with an overall acceptance rate of 5.08 percent, according to the Brown Daily Herald. This year's applicant pool was the largest Brown has ever seen and therefore the second most selective application cycle in the University's history, yet four seniors from VHS — Mateo Navarro '23, Angelina Nguyen '23, Carson Peterson '23 and Lilia Duque '23 — have been accepted into the school. 
Navarro was accepted into Brown's program in liberal medical education, a program that accepted only 74 of the 4,192 applications it received this year. As stated by Brown's Program in Liberal Medical Education website, the program allows students to earn a bachelor of science in the sciences or a bachelor of arts in the humanities, social sciences or behavioral sciences. After completing their undergraduate education, students then earn their MD at Brown's Warren Alpert Medical School, making the program a total of eight years long. The program allows students to study whatever they want [as an] undergraduate without having to worry about taking the MCAT and applying to medical schools, as they are already accepted into Brown's. This encourages students to have a well-rounded education and pursue other interests besides medicine.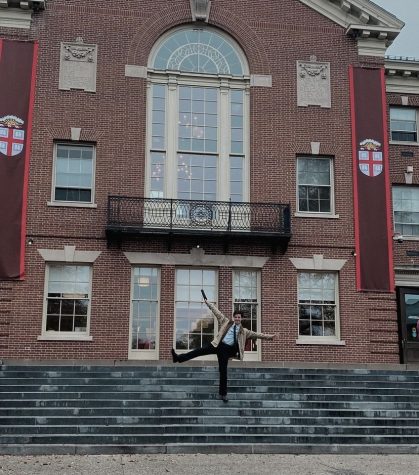 Navarro said, "I am planning on double concentrating in Neuroscience and Hispanic studies or international affairs. I want to set my own roots into the social activism at Brown and branch medical-based community service resources for the Providence population. I also want to meet new people, and have a year abroad to study culture in Central America. I think my application was very much me, and not just what the admissions officers wanted to hear. I think my extracurriculars played a much larger role [in my acceptance] than my academics did, mostly in community outreach. [What appealed to me about Brown's PLME program] was the chance to have a pathway to earning my doctorates while also having the freedom to explore different classes that aren't medical based. Politics, literature, Hispanic studies [and] philosophy are all encouraged in this program to get out of a 'strictly medical based' shell. [Besides Brown], I applied to UW, UCLA, Berkeley, Dartmouth, UCSB, Yale, UPenn and UCSC."
Nguyen applied early decision to Brown and was accepted. She said, "I'm planning to study cognitive neuroscience. I hope to get my degree and figure out exactly what I want to do in the future and also branch out more and meet new people. I think pursuing my actual interests while being involved in a variety of activities and staying well rounded contributed to my acceptance. Also diversity. [Besides Brown], I applied to University of Michigan, University of Washington, Fordham University, Clark University, UCSB, UCLA, UC Berkeley and USC but I withdrew all [of the applications after hearing back from Brown]."
Peterson, who was offered to join Brown's Men's Crew — their rowing team — also had offers from Yale, Dartmouth, Princeton, Columbia and UC Berkeley before committing to Brown. He said, "I accepted all of [the offers] except for Berkeley. I love the area and school but the coach and I got into it and exchanged some words. But all of November and December they paid for me to come see the team for a couple days to see what place fit me best and in the end it was between Yale and Brown. It really came down to the environment and student interaction. Brown felt super collaborative and laid back and the rowing team seemed more excited to have me there. Yale has such a big reputation both academically and with rowing that when I went I felt very much like it was a privilege for me to even be there or be considered which is 100 percent true. I still can't believe I landed that visit, but at Brown it felt more like the team was excited for me to be there and it created a very welcoming environment. Providence and Boston are also awesome cities. I started rowing in the eighth grade and was playing basketball at the same time and I was never able to get aggressive enough as a basketball player, especially playing center, but when I rowed I saw the intensity come out during a race so I stuck with it full time my sophomore year. I am planning to study finance and I can concentrate on the applied math side with statistics or on the business admin side,… I still haven't decided between the two. One of my biggest goals at Brown would be to win IRA's (Intercollegiate Rowing Association) which is the big championship for men's rowing. Brown has consistently placed in the top five but I want to take home the gold during my time there. I also hope to get a solid network of friends and mentors while on the east coast. Finance and private equity firms are all over the east coast so hopefully I can land some internships. Although I plan to come back to California, having friends on the other side [of the nation] would be super cool. I'm also trying to figure out if I can still play music while rowing and studying. I don't plan to major in it but I've been playing for seven years and I think it's a great juxtaposition to the physical work of rowing and the sometimes boring and monotonous studying that I'm sure will come with my degree."
Duque was accepted to Brown as a regular decision applicant and plans to study health, human biology and anthropology. She said, "I hope to find and befriend interesting people who can fill my life and learning with new and exciting stories and knowledge [at Brown]. I'm not sure [what exactly contributed to my acceptance], but I tried to be very honest and personal about who I am in my application. I [also] had great letters of recommendation. For every person who gets in, there are a lot of people who don't, so really I just feel lucky. Brown's open curriculum seemed like the perfect environment to explore my own interests and also find different approaches to creating a fair and just medical system. When I toured the campus during the admitted students day, I met so many interesting people and had so many wonderful and enriching conversations. [In total], I applied to 17 colleges. Some east coast and some west coast, [but] I never imagined myself on the east coast. I am so scared and excited."