Reading through time and beyond
The Reader's Faire returned to VHS in person
VHS held its 41st annual Reader's Faire between 8:30 a.m. and 12 p.m. on June 1 in the Tuttle Gym and Main Street Gym. The event was organized by English teachers James Locher and Mary Dietz and their English 10 honors classes, though Dietz's English 10, 11 and 12 intensive class also participated. It was the first Reader's Faire at VHS since the 2018-19 school year due to the COVID-19 pandemic. Before the faire, the classes were assigned the Reader's Faire project, which required them to write a children's book with their group to be read at the Reader's Faire. During the event, the groups read their books to children ranging from kindergarten to second grade. Nine Venturan elementary schools visited VHS for the faire, amounting to approximately 1,000 students. These schools included Ventura Missionary, Mound, Lincoln, Pierpont, Sunset, Assumption, Elmhurst, Loma Vista, Will Rogers, Poinsettia, Junipero Serra, E.P. Foster, ATLAS, Lemon Grove, Citrus Glen, Sheridan Way, Portola and Montalvo.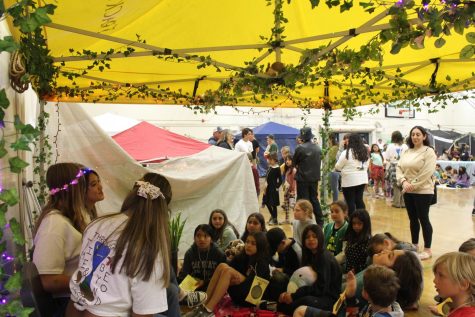 The theme of the faire was "Through Time and Beyond," and it inspired children to read and strive for personal growth. In total, 40 books were read to the children, and all centered around the faire's theme. Locher and Dietz recruited the help of upperclassmen to serve as guides, who helped control the visiting classes. The English 10 honors classes set up "habitats" for each book, and the children rotated from habitat to habitat in groups of classes, with each class visiting all 40. The elementary students had a book that was stamped by each group, which kept track of their attendance. 
In addition to the June 1 Reader's Faire, 55 seniors in Locher's AP Literature & Composition class visited 11 elementary schools on June 2 to read their books, just as the sophomores had the day prior. 
The children arrived at VHS by bus, private car and foot. The classes that visited VHS did not receive seniors, though Elmhurst Elementary School sent two classes to VHS and had two classes be visited. 
Rebecca Castro '25, a reader, said, "[My book is] 'The UHS: the unidentified happiness ship.' [It's about] an alien who gets lost in space and lands on Earth and is unable to go home unless he finds happiness on Earth. [The children] have loved it so much so far. They love the drawings. They're also sweet."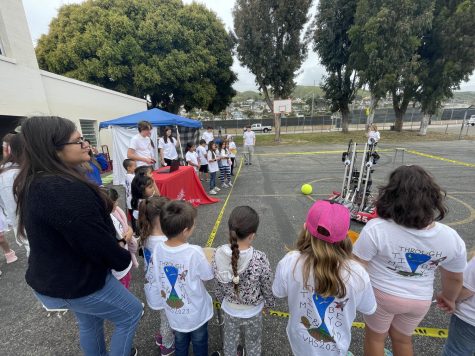 Laird Pidduck '24, a guide, said, "My responsibilities are to make sure the kids are all organized and move about to open areas to read books, just so there's not as much chaos. They are chaotic. They have a bunch of energy. Though it's great to see these little kids and sort of have them open to high school."
Though being led by Locher and Dietz in cooperation with the participating elementary schools, this year's Reader's Faire was largely student-run. Students formed committees in charge of certain aspects of the faire, such as decoration. 
The VHS Reader's Faire is expected to continue in future years.
Dietz said, "This is a great event, and I'm really excited that we got to have it back here again. We really like having [the elementary school students] visit our campus. [Hosting it] here is more of a community feeling."