Olivia dances her way to stardom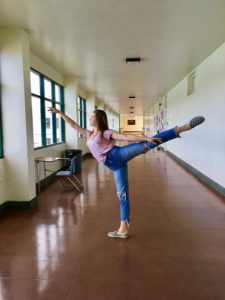 Have you ever heard of Kobe Bryant or LeBron James? They both went straight to the NBA after graduating high school.
Ventura High School Junior, Olivia Miller, has been a ballet dancer for 13 and a half years and hopes to dance for a company, like San Francisco Ballet, New York City Ballet, American Ballet Theatre, or Paris Opera Ballet, right after high school.
Miller's early interest in ballet was sparked by her older sister who was a ballet dancer and she wanted to follow in her footsteps. Miller decided to try out ballet and ended up loving it.
Miller dances at Ballet Academy Ventura and has an upcoming show, The Nutcracker, which will be held at the Oxnard Performing Arts Center on December 2 and 3, as well as at Ventura College Performing Arts Center on December 9 and 10. Miller will be performing as Arabian, Rat Queen, Dew Drop, and Demi Waltz in the show.
Every spring, she travels around the country to audition for different companies, which will eventually lead to her touring around the world and performing within that company.
Every summer, Miller takes part in summer intensives. In the past she has done some with American Ballet Theatre in Manhattan. Only a select group of girls internationally are admitted into these summer intensives and Miller has been accepted to different ones since she was 10 years old.
She was even offered a position in the American Ballet Theatre, but declined it because her mom wanted her to finish high school. Although Miller will be going straight into a job after high school, she does plan on continuing her education on the side of being a professional ballet dancer.
Miller said, "Right now, it's hard enough finding a balance between school and ballet." During the performing season and while preparing for shows, she is at the ballet studio from about 9:00 a.m. to 6:30 p.m. every Saturday and Sunday for rehearsals.