Ventura High School hosts a wellness fair for students
 VHS admin hosts the second wellness fair of the school year for students
On May 25, VHS administration and ASB hosted a wellness fair for students to enjoy before the start of finals. The wellness fair took place on the senior lawn at lunch, which was extended to an hour for the event. 
The extended lunch meant that 10 minutes were removed from each of the class periods during the day, excluding seventh period, providing an opportunity for students to rewind and explore various activities that can benefit their mental health and provide relaxation.
The event promoted mental health awareness in honor of May, which is mental health awareness month.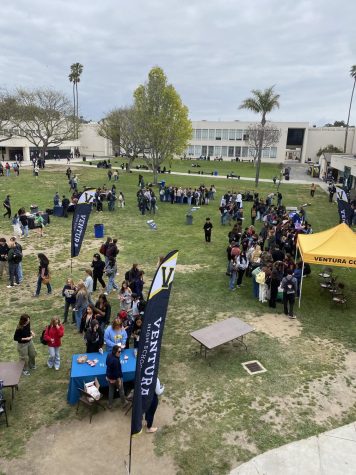 Several members from different organizations were there to help VHS students. The event also hosted nonprofits and agencies such as Love on Leash, yoga, Building Resilience and Inclusion Through Engagement, Diversity Collective, Alateen and National Alliance on Mental Illness.
Janel Hernandez, part of the Coalition for Family Harmony, said, "We are the only rape crisis center here in Ventura County, we provide services for domestic violence survivors, sexual assault survivors education about family violence. We also have LQBTQ+ program, we also have our crisis health line and a lot of information and resources for our program." 
Bailey Burman '25, president of the ASB Frosh/Soph committee, said, "We are handing out coloring markers and coloring sheets because [coloring] is proven to improve mental health. We hope all VHS students take advantage of these resources and have a relaxing and productive lunch." 
Dogs were also brought out by Love on Lease for students to pet and hang out with, as the NAMI shows that dogs help with depression and anxiety that could be heightened in students due to school, specifically at the end of the school year. 
Isabella Lauderbaugh '25 said, "My favorite thing right now [from the wellness fair] is most likely the dogs. I haven't been around the whole area but the dogs are my favorite so far." 
Pluto LeRoy '26 said, "My favorite part so far has been the dogs, they are the first thing I saw. They are really fluffy and cute. It's really nice that they [ASB] are doing this."