Buena vs Ventura High School football game proves big success for VHS
After losing two years in a row, VHS has won back the "Suzanne Brown Memorial Cup" from BHS. This was the 60th annual Buena vs Ventura football game. "It feels like [the trophy] is back home where it should be," said coach Tim Garcia. This historic rivalry game ended with a score of 35 – 7; VHS taking the big win.
In the first seconds of the game, captain Mylan Walker '24 scored a kickoff return touchdown. "I think the opening kickoff, Mylan picking it back probably set the tone for the whole game," said equipment manager Felix Cortez. The game continued to go up from there. Quarterback Derek Garcia '26 threw a 72-yard pass to David Nunez to make the score 20 – 0. Garcia threw three touchdowns that night. Garcia said the highlight of the game was, "That first play on offense when we scored on a deep post. [The] first play, it was really fun."
"[The game] was a success, just enjoying the moment and having fun with my brothers," said Wide Receiver Daylin Hunter '25. 
"Night went really good. You know we put our points on the scoreboard and we got that W. [The highlight of the game was] getting a sack on [Buena quarterback] Joey Reynosa," said Outside Linebacker Tristan Phillips '26. Phillips had a total of three tackles that night.
"I came out the night with three sacks. Defense played really good all around. I mean, [Buena] could only score when we had our twos in and our twos were clamping up. The biggest highlight was definitely the trophy presentation. It's good to have that trophy back in the right house," said Defensive Tackle Jordan Butcher '26.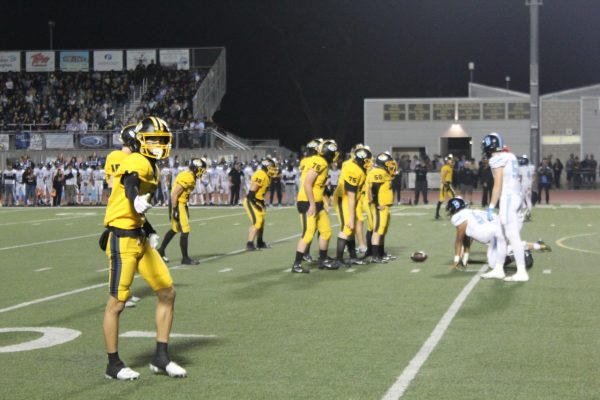 While the game was in motion, the cheerleaders were celebrating alongside members of cougie camp. Cougie camp consists of kids from kindergarten-6th grade learning to be cheerleaders. 
The student section was also full of loud supporters. "We had a good student section. We got a lot of chalk in the air, it was a good time," said spectator Samuel Quiroz '24.
"I think you guys should really come out and support, even when it's not Buena, because [football games] are super fun," said spectator Gigi Scaglia '26. 
 "The night went very well. I was proud of our guys. They came out and kind of let it all go and it showed up on the scoreboard. Proud of the black and gold. It was great to be able to do that at home in front of our home fans in front of the community. You know, what a tremendous night," said Garcia. 
"It's always great to be a cougar," said Cortez