Drama kicked off the year with new assistant teacher, Arden Smith
This year, Arden Smith was welcomed to the drama department as an assistant teacher to Stefoni Rossiter. Many students have said they have had positive experiences with Smith. She has also been a large part of putting on the drama department's  first production this year, "Discovering Amelia."
Smith expressed how drama is the most fun experience she has ever had. She also spoke on new aspects she wanted to implement into drama this year. Smith said, "I think there's a couple traditions that I've carried with me from my childhood that I want to include. Like for example, there's a happy dance that I always do at the beginning of musicals that isn't implemented in this department yet." 
           Smith is adding small traditions into drama to make the cast and class more positive. She also co-directed the play, "Discovering Amelia," and described it as one of the highlights of her year in drama.
           Smith said, "Getting to co-direct 'Discovering Amelia,' that has been so fun. I've learned so much about the department in general and we're opening right now and it's my first show here. So that's been so exciting." 
           She encouraged everyone to see the play that the drama department worked hard on. "If you are looking to go through a whirlwind of emotions, please come see [the play]. Even if you are not looking to go through emotions, please come see it. It is like, so so good. These kids have worked so hard to put on an amazing production. So it's definitely one you don't want to miss," said Smith.
           Students from drama acknowledged how great of a teacher Smith has been and how much they enjoy the class with her.
           Drama student, Arden Pariso '26 said, "Ms. Smith is an amazing teacher. She is so good at her job and for just starting out. [She has] taken over so well."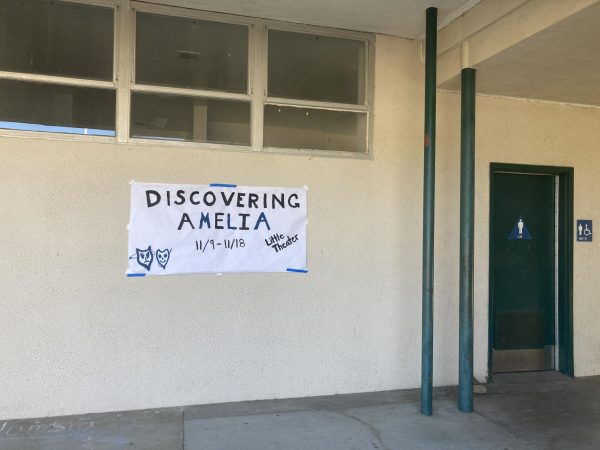 Another drama student, Sevastian Smith '25 said, "She is wonderful actually, she is pretty good when it comes to when you need to ask for help. She's trying to actually explain it well. She's really helpful. I really enjoy her as a teacher."
          A good deal of students voiced how fun drama is with Smith and what a great teacher she is. Smith believes she has incredible students as well. An abundance of the drama department suggested drama to anyone who is interested.
         "[The drama department is]  amazing and wonderful. Probably like, just the best. If anybody's looking to join, we welcome you with open arms," said Smith.