A 1.25 percent compromise
Nowadays, it's common for students to take their teachers for granted without necessarily even realizing that they're doing so.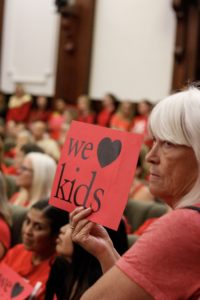 For some students, they look forward to visiting old teachers of theirs once they're home from college. However, what most students don't consider is the fact that Ventura Unified School District teachers are being paid thousands of dollars less each year in comparison to neighboring district teachers like Oxnard Union School District.
So students might be asking themselves, "How does my teacher's salary affect me?" Well theoretically, students could come back to Ventura High School to visit their favorite teacher and find out that they've transferred to another school district only 10 miles away and are earning thousands of dollars more a year on average.
The week of January 8, all Ventura Unified Education Association and Ventura Education Support Association members were given the opportunity to vote on a tentative agreement, giving VUSD teachers 1.25 percent salary raise that would take effect starting second semester.
The reason this controversy went to a vote in the first place is because VUEA and VESPA's two percent raise request was not accepted by the VUSD board, ultimately putting the controversy over teacher's contracts into a period called impasse.
After long negotiations, other small roadblocks, and eventually a mediator, VUSD and the teacher unions came to a tentative agreement they voted upon.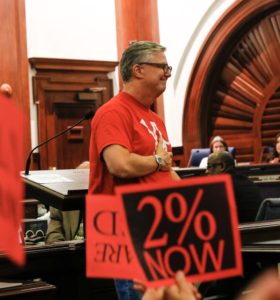 The vote consisted of two options: Either accepting the tentative agreement for a 1.25 percent raise, or rejecting the agreement meaning the teachers would not receive raises so impasse would continue, and the fight for the two percent raise would live on.
VUEA and VESPA both voted to accept the TA. A total of 86 percent of VUEA members turned out for the vote, according to VUEA president, Dan Nelson, who said he was "thrilled to see those numbers of support."
In a VUEA email Nelson stated there are 31 percent, or 220 members, that are unhappy with the TA result.
Nelson shared that he already has plans for going forward that will address the concerns that got VUEA and VESPA to impasse in the first place.
The two issues Nelson wants to address this year are: Closing the pay gap between VUSD teachers and other districts, and implementing advisory input on the VUSD budget.
Nelson also plans to start a working group that will meet in early February to continue the push to address teacher's pay gap. He believes VUSD doesn't want to repeat impasse next year, which is just another reason for Nelson to continue to lead this battle.
In Nelson's email to all VUEA members, he ended the section about this topic with, "My job is to convince these two [Jeff Davis and David Creswell], and the board, and the district leadership team, that while we have approved the TA,  the problems that took us to impasse still exist, and they must be addressed. We can either address them in the meeting rooms, or we can address them in the streets."