Patagonia's pursuit for protection
President Donald Trump announced his plan involving the reduction of two national monuments located in Utah on Monday, December 4 . The two federally protected landmarks, Bears Ears and Grand Staircase-Escalante, were subject to Trump's land reductions.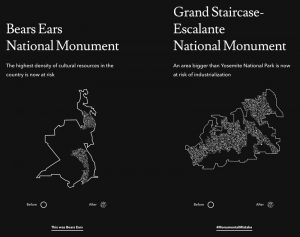 According to NBC News, Bears Ears was designated by President Barack Obama and Grand Staircase-Escalante by President William Clinton. Bears Ears will decrease in size from 1.3 million acres to approximately 222,000 acres, which is approximately 85 percent, while Grand Staircase Escalante will decrease from 1.9 million acres to approximately 1 million acres, which is almost half its size.
The changes to these federally protected lands were recommended by Interior Secretary Ryan Zinke, which Trump then made official through two presidential proclamations.
When Trump announced his proclamations to shrink the national monuments at the Utah State Capitol, 10 groups including Conservationists, Environmentalists, Native American and tribe members, and even a more local company that many know of, Patagonia, sued the Trump administration for their decisions.
Patagonia posted a message on their website saying, "The President Stole your Land." When visiting their website, www.patagonia.com, one can take action by clicking one of the buttons and following the directions. Patagonia also states that "This is the largest elimination of protected land in American History."
It is reported by Patagonia that over 2.7 million public comments have "poured in during the Department of Interior's 60 day comment period," which is a record breaking response. In addition, more than 98 percent of the comments expressed support for maintaining or expanding national monuments.
With shocking before and after pictures, Patagonia outlines Bears Ears to be, "The highest density of cultural resources in the country," and states that it's now at risk. As for Grand Staircase-Escalante, Patagonia states that the monument bigger than Yosemite National Park, "is now at risk of industrialization."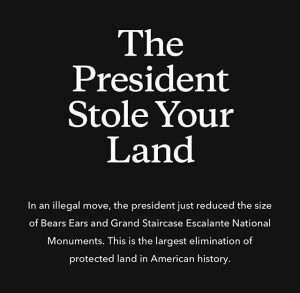 Patagonia explains why they're fighting to protect public lands, explaining that the company has been doing so for almost 30 years. In fact, Patagonia played a part in the establishment of several national monuments including Bears Ears according to their website.
To delve deeper into the lawsuit that's being filed, it's interesting to know the "why," factor in this equation.
Trump's grounds for cutting the federally protected land is that past administrations abused the Antiquities Act of 1906 to "over-designate thousands of acres as federally protected land," according to NBC News.
In short, the Antiquities Act of 1906 states that the president has the authority to create national monuments from federal land to protect significant natural, cultural, or scientific features. The act has been used more than 100 times since its passage.
As a rebuttal to Trump's claim that previous presidents abused the Antiquities Act, Patagonia's grounds for filing the lawsuit are that the Antiquities Act gives presidents the authority to establish national landmarks, not strip the protective status.
According to Patagonia, this lawsuit could be a landmark, because if Patagonia wins then a precedent is set that Antiquities act is strictly for granting monumental status, not repealing it. And on the other side, losing could be disastrous for certain groups, allowing presidents to cut land and be protected for it.
In favor of Trump's decision, former Utah Congressman, Jason Chaffetz, stated that the "reductions are long overdue and now [they] can authorize resource extraction."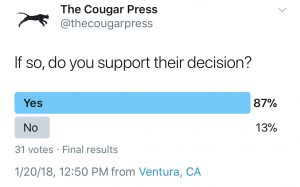 In response to this, Patagonia's Director of Environmental Activism, Hans Cole, said that "This place is much too sensitive for further resource development, fossil fuel extraction, and mining."
Cole argued that "This place has 100,000 archaeological sites. It's a place that's sacred to the Inter-Tribal Coalition and the tribes that have been fighting so hard for its protection."
So in essence, this lawsuit could be monumental for the city of Ventura as a local business sues the president over land rights.
As for Ventura High School students, 67 percent reported that they own an item from Patagonia, according to a recent Twitter poll conducted by The Cougar Press. When asked if they were aware of the lawsuit Patagonia is filing against Trump, 54 percent of students votes yes, 14 percent voted kind of, and 32 percent voted no.
Out of the 54 percent of students that are aware of Patagonia's lawsuit, 87 percent of them said they support Patagonia's decision and 13 percent voted that they do not.
Regardless of whether or not student's support Patagonia decision, this lawsuit challenges and questions presidential authority outlined in a fairly long standing act, thus making for an important court case.
"If [Trump's proclamations] stand, we are certainly going to be challenging it in whatever way we can, otherwise we could see similar attacks on national monuments," Cole says.