Suspension numbers for drug usage rise at VHS
According to Assistant Principal Charles Cornwell, there has been a significant change this year in regards to student behavior and offenses committed by students. In past years, the misbehavior for which most students were suspended was fighting and violence related offenses.
However, this year the statistics have changed, resulting in more students being suspended for drug and alcohol consumption and fewer for violent offenses. In addition, the total number of suspensions for the 2017/2018 school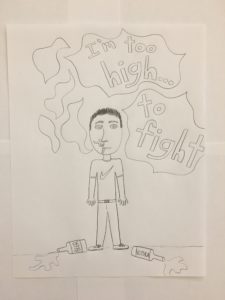 year has significantly surpassed previous years, despite being shorter due to the Thomas Fire and other natural disasters.
Another problem that has been introduced to VHS is the use of vaping devices on campus. VHS teacher Justin Weber confirmed that at the most recent staff meeting, there was a conversation educating teachers about different devices students are using to vape. Weber added that one such device was passed around for observation.
With this information comes a multitude of questions regarding how the school's policies and standard for discipline will change to accommodate this change in behavior.
Assistant Principal Susan Eberhart commented on the situation, "I think anytime we have behavior that affects students, we're going to need to look at it. One [way to deal with the situation] is education about it… When it regards to students' safety, we are really concerned. And, in particular, with regards to vaping, we've been in contact with Ventura County Behavioral Health Drug and Alcohol, in terms of what kind of preventative measures that we can take. [We have also] tried educating students, so they can understand the impact that it has on their safety and their well-being."
According to CBS News, the relationship between "juuling" and e-cigarettes with high schools is a nationwide epidemic, even catching the attention of the FDA. According to the CBS News article, "FDA cracks down on Juul e-cigarettes popular in schools," "FDA regulators also are asking manufacturer Juul Labs to turn over documents about the design, marketing and ingredients of its devices. The rare request particularly focuses on whether certain product features are directly appealing to young people."