Converse or Vans: which is the favorite shoe of VHS?
When investigating the most popular shoe at Ventura High School, Vans reigned the most popular. In a poll of 78 people on The Cougar Press's Twitter, Vans won 78 percent of the vote against 22 percent Converse.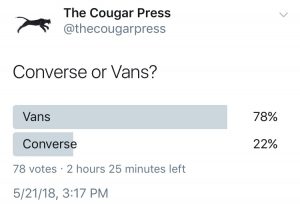 Senior Alyvia Salvatierra chose Vans because "if you have big feet like me, Converse makes your feet look huge… Vans are comfy and go good with everything. I go through phases a lot with Vans that I like the most… Sometimes I'm super into high tops so I'll just wear my high top Vans that are black and green with bleach stains on them. My favorite low top Vans are the classic old school black and grey ones."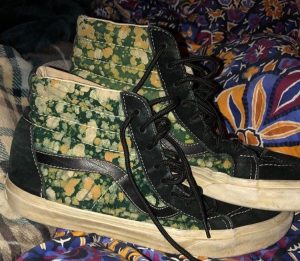 The nearest Vans store to VHS is in the Pacific View Mall where they have a variety of styles and colors., such as checkered slip ons popularized by "Fast Time at Ridgemont High." On vans.com, Vans statement called "Our Brand" stated, "Vans is a state of mind. Thinking differently. Embracing creative self-expression. Authenticity and progression… Vans holds over 50 years of youth culture connectivity…"
Sophomore Daniel Gutierrez commented that Vans are "simple, affordable sneakers" and that his favorite are "old skools."
Senior Sophia Manning chose Vans over Converse, but "I like my PF Flyers the best," she stated.
Junior Saida Delgadillo, who chose Converse, said her favorite were her "pink high tops" because they are "super comfy." NIKE, Inc.'s mission statement is to "do everything possible to expand human potential," according to nike.com NIKE, Inc. includes Nike, Converse, Hurley and Jordan brands. Black low top Converse became popularized by the movies, "The Sandlot" and "Rebel Without a Cause."