Did you go "Back-to-School" shopping?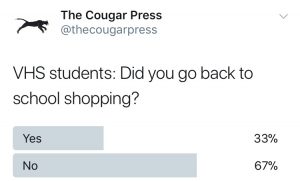 As every school year approaches, the annual "Back-to-School" shopping season does too.
The National Retail Federation conducts its annual Back-to-School survey every year since 2003 to see how American families will shop for clothing and supplies for the school year. According to the NRF, "families with children in elementary through high school plan to spend an average $684.79 each."
Junior Kambria Haughton went back to school shopping for clothes and supplies, she stated that she went to "Target for school stuff and mostly online shopping for Dickies and [at] Forever 21."
Senior Joe Martinez stated he only went supply shopping at Staples.
The research from the NRF also revealed that 66 percent of school shoppers planned to wait until two weeks or less before the start of school to make their final purchases.
Senior Jack Cabrera went clothing shopping first: he did it "mostly online at H&M," and he got his supplies "like a week or two later."
Kit Yarrow, a consumer research psychologist, believes that shopping is "richly satisfying" because the "process of imagining and discussing the future is exactly the psychological preparation everyone needs as kids transition from one grade to the next."