On Thursday, August 31, VHS girls golf played their second match of the season, where they competed against Buena High School, Foothill Technology High School, and Saint Bonaventure, at the Buenaventura Golf Course . The final score was 234 for VHS, to Foothill's 238, Saint Bonaventure's 327, and Buena's 266.
Noteworthy scores were freshman Jaclyn Broderson with 56; junior Samantha Peterson with 53; senior Delaney Young with 45; senior Olivia Block with 44; Jenea Harer with 43; and freshman Carlee Steven with 41.
Girls golf prepared for the new season by practicing "all summer, every Tuesday and Thursday," according to team captain Olivia Block.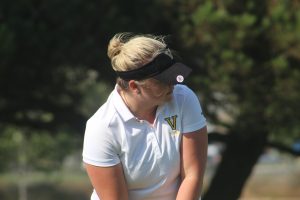 Sophomore and first year golf player Bella Young added that "a lot of the girls also go golfing on the weekends or everyday independently," to fine tune their swings.
While the first team made their way around the seventh hole, girls golf coach Paul Pritchard jokingly remarked, "We're 1-0 [this season]… perfect record."
As this is Pritchard's last season after over a decade of coaching VHS golf, he describes it as "bittersweet," but maintains that he thinks the girls will do well no matter who the coach is.
Even after Young's narrow loss she responded, "I feel good [about our chances]. Last week we did pretty well, and this will also show us how good our competitors are for the rest of the season."
Ventura's Girls Golf Team will play their next match on September 5th against Rio Mesa at Spanish Hill Golf Course at 999 Crestview Avenue.