Show Choir: a place to shine
Ventura High School's Show Choir is a program taught by Heidi House and not only a place to dance and sing, but according to House and her students, a second home. Show Choir takes place in VHS's auditorium during zero period (6:15-7:15 a.m.) and welcomes students from all Ventura District schools, including Buena High School and Foothill Technology High School.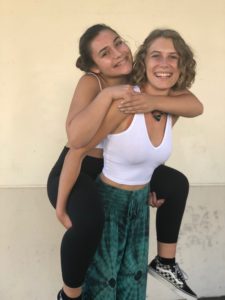 The class was originally an extracurricular program completely separate from VHS. It found its home in Ventura High's theater in 2010 when House and Theater Arts director, Stefoni Rossiter, had the idea to put on a beginning-of-the-year show for all VHS teachers. From there, it evolved into a class that would serve as a safe haven for many diverse groups of students and House herself.
Students wake up at around 5:00 a.m. to attend the class, which begins at 6:15 a.m., on the dot. From 6:15 a.m. to 6:30 a.m., students warm-up their voices and bodies through fun and silly exercises such as jumping up and down or singing rhymes. Students separate into their individual singing groups (altos, sopranos, tenors and bases) and from 6:30 a.m. to 7:00 a.m., practice songs for their upcoming showcases in November and December. Over the weekend, students must participate in mandatory rehearsals lasting up to four hours, consisting of dancing, singing and coordinating of future events.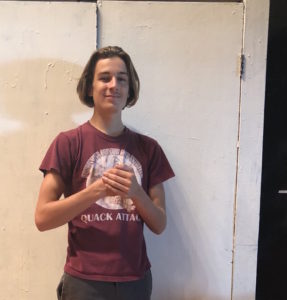 Why make the commitment? Not only does Show Choir give students the opportunity to creatively express themselves, but it provides a safe environment where students can do so without worrying about judgement from others, according to some students. Student manager, sophomore Kylie Pence, stated, "Company [Show Choir] has helped me grow so much as a person. I was super shy going into high school and I had a lot of social anxiety and it really helped me become comfortable and confident with myself. There are so many different yet amazing personalities in this group but we all blend together so well and treat each other like family. I think everyone should have that place where they always know they're loved, welcomed, and belong. It's a lot of work and it's definitely difficult to get out of bed and [get] to class at 6:15 a.m. some days, but there is no other way I'd like to start my mornings."
"I love these kids, I just love them," said House. "Everybody has their own individual personality of course, and their special commitment, and their shining light — their own very special bright shining light. I love to provide the space — the place for their lights to shine. The talent spectrum is big. I mean, I have some kids that are really experienced and some that walk in and have never sung before. The growth for everyone is huge. The family that is here is a very safe, nurturing, loving, warm place for all of us."
It is clear from the words of Show Choir students that the reason these teenagers wake up at 5:00 a.m. to go sing and dance in their school theater every day is because of their love for the program, performing and each other.

Show Choir singing Over the Rainbow 2018 from Cougar Press on Vimeo.
VHS's Company Show Choir will perform in a showcase at Junipero Serra School on Nov. 3 and 4. Make sure to come watch them perform at their Holiday Concert in December (stay tuned for the official dates).