VHS forced to be excited? Mandatory rally gets a negative response
On Oct. 12, the entire school made their way to the Larrabee stadium for a mandatory assembly to get the students of Ventura High School excited for this year's Buena vs. Ventura varsity football game, as well as to remind the students of what a resilient school Ventura High is.
In reality, many students and faculty members weren't even sure what the assembly was about. So the only thing everyone knew was that they had to make the trek to the stadium in 62 percent humidity and lose time in class because of it.
"There were rumors that it was an anti-bullying rally," said senior Alexander Chrimes, "but there wasn't an anti-bullying message [in the] entire rally."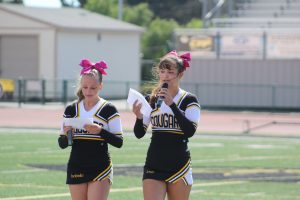 Even though the cheer captains, seniors Sarah Clench and Bella Westrich, talked to students about decision making in events regarding the game, the rally's "anti-bullying" message seemed rushed. It was really only brought up due to the mistakes from last year.
Chrimes went on to say, "I also thought it might also be a rally to hype people up for a game, but I didn't know what game they could be advertising since the homecoming game seemed more important than [the Buena vs. Ventura game]."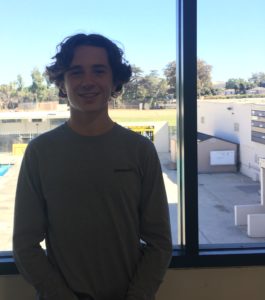 Many other students didn't see the Buena vs. Ventura game as important. As sophomore ASB representative Blaise Basille stated, "I feel like [the assembly] went alright, but students didn't seem to be as interested to compare to [the Buena game], from what I saw on social media."
On that note, we don't see the point in interrupting our class time for mandatory football rally. Especially since many students weren't interested in the Buena vs. Ventura game or football as a whole.
When asked why the rally was considered an assembly, which made it mandatory, ASB member and speaker at the rally senior Janelle Chavira said, "It was considered an assembly because it was necessary under previous circumstances to address the character of VHS students and value of resilience." Chavira also added, "VHS is held to a standard, therefore establishing the expectations of our positive characters and acting right was more of a priority even though ASB wanted to have a rally that hyped everyone for the Buena vs. Ventura game."
On top of that, the football team had one large scale rally dedicated to them during the year and many extracurriculars barely get mentioned in the afternoon announcements, much less have events dedicated to them.
"I think it is a little disappointing to the people who aren't involved in sports to see their fellow classmates get a class period worth of time dedicated to their work and effort," stated junior Sophia Rocha when consulted on the matter. She added, "[Especially] when the others —such as music and drama students— don't seem to get that same excitement from their peers and educators."
On top of the already squandering assembly, during the performances by the VHS hip-hop team, dance team and cheer squad, the speakers playing the music the groups performed to were malfunctioning.
"The speaker wasn't working," exclaimed junior and hip-hop team member Jonathan Sinklier, "and the brilliant ASB students, as they were, took out their phone put in the [songs] and held it up to the microphone to play it over the speakers, so it was very bad quality. [The Hip-hop Team] couldn't hear anything."
On this point of contention, Chavira responded, "There were factors that we couldn't necessarily help."