Following Ventura and Buena High School's joint Wind Ensemble Fall Concert on Wednesday, the music department is warming up for Dec. 6– the String Orchestra Winter Concert.
"We are playing a number of different pieces, [but] nothing is finalized just yet," said music director, Paul Hunt. "It's still in the planning stages as we work through the music." When asked about his methodology for selecting pieces for the Orchestra, Hunt said, "I try to find a lot of different contrasts, some fast, some slow, some different styles that require different ways of playing."
"[I] try to find contrasting styles to convey different emotions, tell different types of stories for the audience. At the same it requires them [the orchestra] to learn to play music different ways so they can express different emotions."
Senior Macy Miller is excited for the concert. The violin player is a member of String Orchestra and has been part of the Music Department since her freshman year. She said, "Concert days are so exciting, even if I'm a little nervous about how the pieces will come together."
"Also being a senior, I don't have a stage fright anymore so I can enjoy myself more."
Although the set list has not been finalized, both Miller and sophomore Yasmin Myers have picked out favorites from pieces they've rehearsed so far. "We have a lot of good pieces that we're working on right now, but I think my favorite is Only In Sleep by Ēriks Ešenvalds because it was originally a piece for choir, and I love how pretty it sounds," said Miller. Myers said of her favorite piece, "It's a Shostakovich piece, and I think I've practiced it so much to get it like really sounding good. So I have it practically all memorized." 
"I think it sounds really nice, especially with the cello part in it," she said. When asked if she hopes to play the piece at the concert, Myers, who also plays violin for String Orchestra, said, "Of course." Listen to Myers' full interview below.
Hunt explained the daily routine for String Orchestra's class: "We usually spend a good portion of the class going through fundamentals and then we start working on different artistic and technical aspects of the piece and putting it all together," he said. Per Miller, "Class usually consists of us all rehearsing the pieces we have at the time. We run though the piece, and Mr. Hunt gives us feedback about what needs to be fixed/can be improved, usually related to how the piece is supposed to feel, for example we need to play softer, louder, brighter tone…."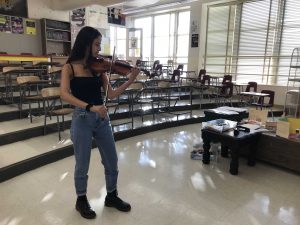 "Most of our [out of class] practice consists of technical exercises that help us improve and play the music as more than just notes on sheet music. I do spend time working on the pieces we've been given, usually picking out a difficult section and getting it down, not the whole piece at once, but the idea is to not spend too long on the music itself," said Miller.
For those still wondering about the emotional style of String Orchestra's pieces, Hunt offered one insight: "Most artists or composers use strings to convey sadness. Strings usually have that ability because [of] the way the instruments are built. So that's the main emotional intent for strings."
String Orchestra will be playing at 7:00 p.m. on Dec. 6 at Buena High School. Admission is free.