Community commemorates first anniversary of Thomas Fire
"[On] behalf of all of my colleagues on the city council, thank you for being here tonight, and being part of this special remembrance," said Deputy Mayor Matt LaVere as he addressed the crowd in front of City Hall.
Venturans gathered outside City Hall to commemorate the first anniversary of the Thomas Fire, which destroyed 535 structures in Ventura city alone, per the Ventura County Star. The Thomas Fire, which at the time grew to be the largest fire in California history, erupted last year on Dec. 4.
Deputy Mayor LaVere spoke, as did Ventura city Fire Chief David Endaya. The Ventura City Firefighters Pipes and Drums played at the beginning and the end of the commemoration, which lasted from roughly 5:30 to 6:30 p.m. Monday, December 3.
Attendees, who received electronic candles, took a moment of silence to remember the two victims of the fire, Virginia Pesola and Cory Iverson, who died in a traffic accident and fighting the fire, respectively.
Readers can watch a video of the event here, recorded by KEYT, KKFX and KCOY reporter and anchor Tracy Lehr.
"[On] behalf of all of my colleagues on the city council, thank you for being here tonight, and being part of this special remembrance," said LaVere.
Recalling the evening the Thomas Fire began, LaVere drew parallels between Ventura and the Camp and Woolsey fires in Paradise and Thousand Oaks, California.
"It was an inferno that just engulfed a city in [the] late hours of the night with little or no warning."
LaVere singled out Ventura's first responders for praise: "In the middle of the night, our first responders went out and they battled heat, flames, a fire that was attacking our entire city from the west end to the east end."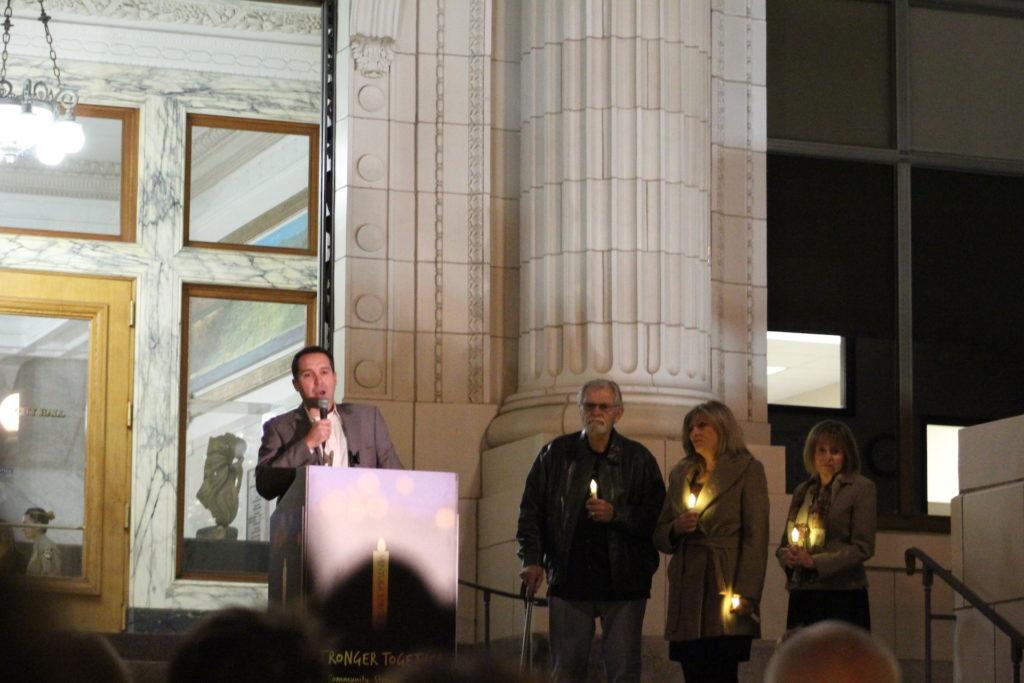 They evacuated 27,000 people that evening – a quarter of Ventura's population – with no loss of life, according to LaVere.
"I don't think I truly appreciated it at the time," said LaVere. Reflecting on the casualties other fire-stricken towns have faced, "what our first responders accomplished that night was nothing short of a miracle."
"It was surreal," said LaVere when asked about how it felt to look back on one year since the Thomas Fire.
"I think this year has been challenging in many ways that it's hard to even put into words."
"I tell people," he said, "this was the worst natural disaster in our city's history."
"They don't have city council training on how to recover from disasters of this size."
Listen below to the full interview with Deputy Mayor LaVere below.
Endaya emphasized that this is "a night where we remember."
"We remember homeowners, we remember neighbors, we remember fear, we remember panic, we remember a community facing something that none of us ever dreamed we would have to face."
"I personally remember a community that responded to its own first responders and evacuated when we begged you to evacuate," said Endaya.
Reflecting on the Thomas Fire's two victims, "We are a strong community," said Endaya.  "I remember resilience, I remember strength, and I remember neighbors helping neighbors.
Foothill Technology High School seniors Raine Hagerty, Henry Pick and Kennedy Gomez attended the event.
"Well I for one came because I realize that it's been a year now since the Thomas Fire which was a huge event for everyone in Ventura," said Hagerty. Hagerty stated that, in addition to being personally affected by the fire, he had friends who were too.
"So I thought [that] if I came tonight it [would] be nice to show my respect and my support for Ventura," said Hagerty.
Listen below to the full interview with Hagerty and Pick below.
The event was concluded by Firefighters Pipes and Drums, which played "Amazing Grace" after the moment of silence. LaVere encouraged everyone to "enjoy each other's company."
To those who lost their homes in the Thomas Fire or are still feeling its aftereffects, "I would just want them to know that we as a city council [and] as a city are here to do anything [and] everything we can to help them rebuild and recover," LaVere said after the event.